Photo Credit: Ryan Cusentino
Hoosiers, the 1986 classic starring Gene Hackman, is a movie about the small-town Hickory Huskers, and their improbable run to the Indiana State Championship. The entire town of Hickory is engulfed in the ups and downs of the high school basketball team, seemingly gripping onto every tense moment of their season. It is a thrilling tale displaying the impact of small-town high school athletics.
Flash forward to 2021, and Michigan may have their own storybook tale. While almost assuredly Head Coach Wade Waldrup won't make players climb on one another's shoulders to measure the height of the goalposts at Ford Field, the Blue Devils have surprised nearly everyone in the state with this playoff run. A team without a district championship in their program's history, Lawton has defeated Muskegon Catholic Central and Jackson Lumen Christi, two perennial powers with 23 combined State Championships, in consecutive weeks to advance to the Division 7 State Championship game for the first time.
Three seasons ago, Wade Waldrup began his tenure as Lawton's Head Coach. From the beginning, he has talked to his teams about "Practicing on Thanksgiving Morning". For the first time as a head coach, they will get to do just that. "That saying comes from my time at Constantine, where we made the finals twice," Waldrup explained. "Thanksgiving is such a special day on the calendar, you spend the day together with your family. So that morning, you're driving to practice with your teammates before the rest of the day with your family. Being together as a team that morning is so special. There are only sixteen teams practicing on Thanksgiving, so that is a significant moment."
This team is not a fluke, with their undefeated record and a dynamic offense. Lawton relies heavily on the run, whether they use the old-school "T" or spread concepts. Offensive coordinator AJ High's unit averages 49.7 points per game this fall, with three games in the 60s. Their own version of Jimmy Chitwood, running back Jake Rueff, has rushed for over 2,300 yards and 46 touchdowns this season. His 49 total touchdowns (3 receiving scores) have placed him fourth in the history of the MHSAA in a single-season.
The Blue Devils had a pair of unsung heroes a week ago in Cooper Geib and Landon Motter. A quarterback with less than 60 pass attempts and 250 rushing yards in their first 12 games, Motter stepped up in the season's biggest game on Saturday against Lumen Christi. The senior signal-caller was a part of every touchdown scored by the Blue Devils. With time winding down, Motter powered his way into the end zone to bring Lawton within a point. After a penalty injured the kicker, Coach Waldrup dialed up a two-point conversion play. Once again, it was Motter, who ran untouched into the end zone for the game-winning conversion. Geib led the team in rushing yards at fullback, and he had the game-sealing interception. "Lumen Christi decided they were going to take away Jake (Rueff)," Head Coach Wade Waldrup shared. "AJ made great adjustments and Cooper led our team in rushing yards for the first time this season. Landon never flinched, and he was ready when his number was called."
COMMUNITY RALLIES BEHIND THE BLUE DEVILS
The community support for this Lawton team has been nothing short of remarkable. Prior to the semifinal game, the Blue Devils were escorted out of town by local law enforcement. (Video credit to Denise Cody)
Local businesses have caught the spirit as well, including Adams Family Hardware, which has been in downtown Lawton since 1860. Tim McCormick, the owner of the store, shared that they plan to be closed on Saturday for the big game. "We have two of the starters on this team that work for us. With two of our own playing in the game, it's a respect thing to close down the store. We want to show the town that everyone should try and make the effort to watch the game, whether in person or on television." McCormick also shared that they had the semifinal game on a television they set up in the store on Saturday. "We had customers in watching the game, and it was exciting throughout the ups and downs of the fourth quarter. There is a real excitement around the Lawton community, as we have never experienced anything like this before."
Big T Restaurant, located in downtown Lawton, has also joined in on the community support. "Every Friday during the playoffs, we have been making subs and sandwiches for the team," Tory Piecyk shared. "Saturday night, after they won the semifinals, everyone came down to the restaurant. We hosted the team and coaches for dinner. We seat about 350 people, and it was a packed house." In addition to those meals, Breakfast Place, owned by Piecyk's sister, has hosted the team for breakfast on numerous occasions.
Piecyk spoke proudly of the community support for this team. "When they returned back after winning the semifinal, there was a giant welcoming parade. The streets were packed, lined with supporters. It far surpassed any Christmas or Fourth of July parade we've ever had in town."
This support resonated with Wade Waldrup and his players. "There had to be 1,000 people downtown on the street outside Big T," Waldrup shared. "We have been signing "Country Roads" following our wins, and we put it on the speaker on the bus as we drove through downtown. The boys started serenading the crowd."
Much like Adams Family Hardware, Big T will be closed on Saturday. "We feel like shutting down this Saturday, despite it being our busiest day of the week, was worth it," Piecyk explained. "We want to encourage everyone to go to the game if you're able. Lawton will be a ghost town on Saturday".
In addition to local businesses getting involved, community members have embraced the spirit. One fan in particular, Jackie Hackenburg-McDowell, has used her artistic talents to support the Blue Devils. The former cheerleading captain and 1981 Lawton graduate, who proudly shares that her class won the Homecoming giant poster contest all four years, has decorated the windows of local businesses with tributes to this football crew.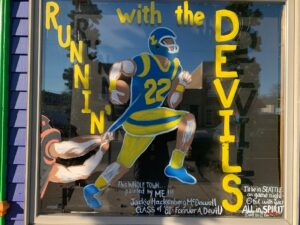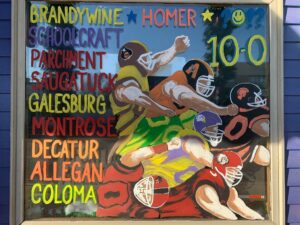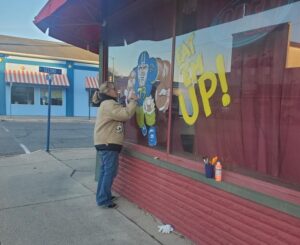 "I started doing posters of my kids when they were in rocket football and sideline cheer, and I never looked back!", Hackenburg-McDowell shared. "Soon, I had this idea to secretly make posters of whoever made the newspaper and display them at the school. After my son Jake graduated in 2016, I stopped, only drawing posters for birthdays and other occasions. Then this season, oh my! When we started realizing we had a chance to make it to districts, out came my roll of paper. Over the past 4-5 weeks, I have been downtown in my Carhartt, drawing these pieces and tracing them on the windows. It's been a surprise to that specific person, and the community."
Josh Hester, a Lawton graduate, created a logo decal for Lawton supporters to place on their vehicle as they venture to Ford Field. Ryan Cupertino, a photographer that has followed the Blue Devils this year, upgraded his photo lens so that he can capture high-resolution shots of Lawton at Ford Field. He is joined by Tony James and other photographers that capture these once-in-a-lifetime moments for the team and the town. These are just some of the few examples of dedication and support that this town has shown to their football team. "This town always supports this team, but it's become more vocal with the success," Waldrup shared. "It's a real tight-knit community that backs one another. That even extends beyond football, caring for those who need help. Lawton is a special place."
SATURDAY'S TITLE MATCH
Just as the Hickory Huskers squared off with the vaunted South Bend Central Bears, Lawton will have their hands full on Saturday morning. The Blue Devils will take on the Pewamo-Westphalia Pirates, who enter the State Championship game with an unbeaten 13-0 record. PW has been the upper echelon in Division 7 since 2011, as Friday will be their sixth title game appearance. They have won three of the last five titles (2016, 2017, 2019) and they are 72-4 since the start of their 2016 campaign.
There will be a battle of strengths in this final bout, with the high-powered Blue Devils offense squaring up with the Pewamo-Westphalia defense. The Pirates have posted five shutouts in thirteen games, allowing just 88 points throughout the entire year. Last week, they allowed their season high in points (21), but made three red-zone stops and three interceptions to advance past Traverse City St Francis.
The Pirates have overcome several key injuries throughout this season, according to Brian Calloway of the Lansing State Journal. Tanner Wirth, who was a 2019 All-State running back, went down with an ACL injury for the second straight year. Cam Cook and Brock Thelen also missed games due to injuries. Troy Wertman filled in for PW at quarterback in Cook's absence, but Cam Cook returned last week against St Francis. Defensively, the Pirates are led by brothers Gavin and Landon Nurenburg at linebacker.
"Pewamo-Westphalia is a fundamentally sound team, with a coach that has that team extremely well-prepared," Coach Waldrup praised. "They are going to present some challenges, especially up front. PW is aggressive defensively, and they never miss blocks, they are always getting to where they need to go. They are a bit quicker than Lumen Christi, and although they don't run anything fancy, they do what they need to do."
Special teams are a point of pride for Lawton, and an area that they feel they can create an advantage on Saturday. "We need to excel on special teams, like we have throughout this season," Waldrup postured. "Chase (Mitchell) was an all-state punter last year, and our kicker can send the kickoff through the end zone. In the return game, we focus on sprinting up the field to get yardage, rather than shoot for a home run return. We spend thirty minutes every day on special teams, it's that important to us."
In a game of this magnitude, against an opponent of this caliber, execution is key. "We need to clean it up and limit mistakes," Waldrup shared. "We can't give them opportunities, and we need to take the biggest advantage of opportunities presented to us." Perhaps, if the situation calls for it, Coach Waldrup will even dial up the "Picket Fence".