Photo Credit for all photos within the article: Chris McDill
The Caledonia Fighting Scots' football team returned to the Regional Finals this fall. They ultimately fell to Traverse City Central, a team poised to play Friday afternoon in the Division 2 State Championship game. 788 miles south of Caledonia, Michigan, another Caledonia keeps their playoff dreams alive. The Caledonia Cavaliers, located in Caledonia, Mississippi, are set to participate in the Class 4A North Half (State Semifinal) on Friday evening.
This has been a historic season for the Cavaliers, as they have continued to accomplish program firsts. They got the opportunity to host their first playoff game this fall. They won their first playoff game in school history, taking down Kosciusko 31-24. In the second round, they bested Pontotoc 27-8.
Last week, Caledonia pulled off an incredible upset against Louisville, taking down the #3 ranked team in Class 4A, 27-7. Kewon Wyatt was the hero for the Cavaliers this day, with a pair of touchdowns, including a 70-yard sprint to the end zone midway through the first quarter.
Head Coach Michael Kelly is in his fourth season at Caledonia. Kelly inherited a team that was 0-10 the season before. "We played a lot of freshmen in our first season, trying to change the culture," Kelly shared. "We now have about 15 seniors that have stuck with us for four years. They are joined by a great group of underclassmen. Everyone understands how we work, and the offseason expectations. We have been able to leave our fingerprint on the program, all the way down through our youth programs."
Similar to what Caledonia Fighting Scots fans enjoyed over the past two decades under former coach Tom Burrill, Kelly's Cavaliers love to run the football. The Cavaliers operate out of the flexbone, emphasizing their triple-option attack. "We love to put some pressure on the defense, and the toughest thing to stop is a good pitch and option attack," Kelly explained. "Our offensive coordinator has over 30 years of experience at the high school level, and he implemented the system. It allows us, as a small, rural community, to compete by getting the ball to our playmakers."
Kelly's background is defense, as his father is experienced defensive coach. "My dad was a longtime defensive coach at the high school and college level", Kelly shared. "I am a defensive guy by trade. We pride ourselves on being tough and disciplined on both sides of the football."
A high school of about 650 students, the Caledonia, Mississippi community is growing. "We have a rather large, nationally accredited, elementary school", Kelly stated. "With an Air Force base nearby in Columbus, that brings kids to our district. Our district continues to grow, as more houses pop up."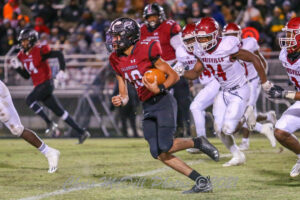 Coach Kelly did share that people in Caledonia, Mississippi community are aware of the Caledonia, Michigan football program. "We found the Fighting Scots on social media a couple years back," Kelly shared. "It was great to see that they had a successful year. It was really fun to follow their season. We are big fans of a fellow Caledonia program that also prides itself on toughness."
The 11-1 Cavaliers will square off with the Senatobia Warriors, who are 11-2 on the season. The game will take place on Friday at 8:00 EST/7:00 CST, at Caledonia High School. The winner will travel to Southern Mississippi University in Hattiesburg for the Class 4A State Championship on December 4, where they will face the winner of Columbia and Poplarville, the other semifinal. Columbia entered the playoffs ranked atop the Class 4A polls, while Poplarville holds the #4 ranking.
"Senatobia is a football program rich with tradition in Mississippi", Kelly shared. "They won a few 3A titles in the early 2000's. This year's bunch is a great football team. They run the ball well, with a quarterback and running back that can really go. We really need to keep playing the style of football that we have been playing all season. That starts with running the football and staying in front of the chains. If we lay it all on the line, we will give ourselves a chance to win."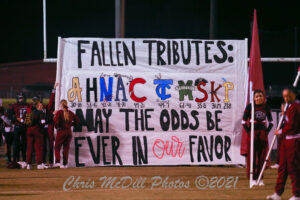 For those interested in following the North Half battle between Caledonia and Senatobia, Coach Kelly recommended following the football program's Facebook page ("Caledonia High School Football"). On that page, there will be live updates and a link to listen to the game.