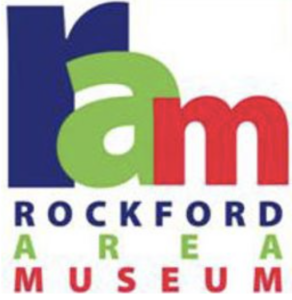 Rockford High School Football Early History
Thanks to Terry Konkle for providing this information
Rockford High School Football Early History
Part 4
1913-14 School  Year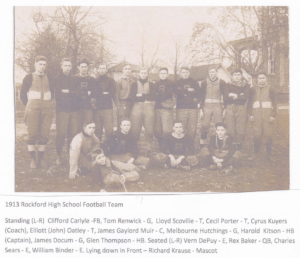 Cyrus Kuyers was the volunteer  coach of the 1913 squad which consisted of fourteen regular players and a mascot.  James Muir, who was a player on the team,  was elected to be the manager in charge of putting together a schedule. This was a major task because there were not a lot of schools  the size of Rockford with football teams. For that reason, games  with  larger schools from Grand Rapids were necessary. The problem was that the city schools were not willing to take a chance of losing to a small program, so would only use their reserves against us. Muir was able to schedule ten regular season  contests plus one practice encounter to start the year. The practice battle was against businessmen from Rockford.
The practice game was publicized as a fundraiser for the program and admission was charged. The average weight of the businessmen was about twenty five pounds more per man than that of the school team, but conditioning played a major role as the school triumphed 66-0. Twenty five dollars was collected from the spectators. The referee was Bill Lindsley, a senior varsity player at Grand Rapids Central High School, and he was well liked by both squads. In 1914 he became Rockford's coach.
The following poem was composed about the game:
Pean  Of Victory
Our hearts were light, our spirits bold,
On that September day;
As we lined up, ready to fight,
The business  men's array.
Our line held their savage assaults,
Our tackling was superb;
We took advantage of their faults,
But us they could not curb.
And sixty six we made our score,
The business men's was blank;
Now may our team forever more,
Hold its place in first rank.
R.H.S.
The idea of playing a fundraising game with businessmen from Rockford was discontinued after one year and replaced with a contest with alumni players going against the school team during a few years.
Rockford played the following schedule of regular season games:
September 29 – Rockford traveled to Sparta and were victorious  89-0. Sparta claimed we used players who were not enrolled in school and refused to play a return game.
October 4 – A game in Grand Rapids against Central High School's Reserves resulted in a 20-13 defeat. It would be our only loss of the year.
October 11 – Allegan was defeated 20-13 at Rockford.
October 18 – Playing at home Rockford beat the Union Reserves 87-0.
October 25 – Grand Rapids Catholic Central was beaten 15-0 in Grand Rapids.
November 1 – Rockford hosted Ionia and won 47-0.
November 8 – Grand Rapids Catholic Central lost a return battle at Rockford 19-0
November 15 – At home Rockford avenged their only loss defeating the G.R. Central Reserves 17-13.
November 22 – Plainwell forfeited to Rockford 1-0.
November 27 – Rockford finished at home beating Charlotte 41-6.
The 1913 campaign put Rockford on the football map as a school to be respected. Football was regarded by many as a brutal, sometimes dangerous sport and players often had to find a way to handle tough situations. Games were sixty minutes in length consisting of four fifteen minute quarters. In a column written by Rockford historian, Homer Burch, appearing in the October 6, 1966 ROCKFORD REGISTER,  he mentioned that James Muir had his nose broken three times in one week, but still played in the next game.
Part 3
1912-13 School  Year
 In the 1912-13 school year, Rockford had 279 students (this was more than the system had ever had in a year before this) in the whole system with only 98 of them in the high school. There were only seven seniors in 1912, but the numbers did not slow the growth and interest in football. In fact there were enough boys to have two teams that could scrimmage each other. There were no age rules at that time, so often seventh and eighth graders participated.
Mr. Morrison and Fayette Dockeray, along with school superintendent H.D. McNaughton, served as volunteer coaches. The squad consisted of regulars and reserves. The regulars were: Cliff Carlyle, Melbourne Hutchings, Art McAuley, Ken Rathbun, Howard Smith, Harold Kitson, Gaylord Muir, Vern DePuy, Charles Sears, Otto Spannenberger, Rex Baker, Glen Thompson, Cecil Porter and Elliott (John) Oatley. The reserves were: Renwick, Johnson, Strand, Lamb, Norton, Finch, Cranmer, Binder, Shaw and McNaughton. Because of the substitution rules back then, starters usually played the whole contest unless injured.
Nine games were scheduled but only seven were played (Rockford claimed forfeit victories in two contests when the opposition did not show up and field a team). The season opened on September 21, 1912 at Sparta with the home squad winning 19-7. On October 3, Sparta came to Rockford and won 12-0. Glen Thompson scored Rockford's only touchdown while Moore scored three times for Sparta in the two games.
Before Rockford played again, a scrimmage game was held (October 5) between the regulars and reserves with the regulars coming out victorious by a 12-0 score. Then on October 12 Rockford traveled to Plainwell and gained a 46-0 victory. An account of the game that appeared in the ROCKFORD REGISTER stated that Plainwell was a "dirty" team who did a lot of tripping and neck tackling.
Belding came to Rockford on October 19 and won 41-6. Thompson scored Rockford's T.D. Rockford was hampered by the fact that several of the starters had to work harvesting potatoes that afternoon. Rockford also claimed that Belding used some players who were not students. Later in the season,  near the end of November, Belding agreed to a rematch at their field. An automobile was hired along with a livery rig to make the trip, but Belding wasn't ready to play. Rockford took a 1-0 forfeit win.
On November 2, at Rockford, the Union High reserves lost 34-0. Thompson rushed for three scores and kicked at least one extra point. One run was over sixty yards. Union's reserves did not come to Rockford for a second contest on November 21, so Rockford had another 1-0 forfeit win. Rockford's reserves played Cedar Springs regulars on November 21 and posted a 2-0 victory. This could be our first J.V. game.
The Jefferson Avenue team from Grand Rapids came to Rockford on November 9. Rockford won 34-0. After the contest, Rockford hosted a meal for both squads and a good relationship was started for members of the teams. Rockford's final game was at Cedar Springs on November 14. Rockford traveled by train on a Thursday night and led 33-0 at halftime when darkness ended the contest. Counting the forfeits, Rockford ended with a six win – three loss  season.
During the 1912 season Rockford had what was called a "Yell Squad" lad by Margaret Oatley, a student who was known for being able to create enthusiasm at the games. The group was especially loud on the train trip back to Rockford from Cedar Springs. They even led a loud procession through town upon the team's return that evening.
On December 20, 1912 a second annual football banquet was held at the Methodist Church. Mr. Morrison was the toastmaster and, unlike the gathering in 1911, a program was planned that included the following: Victor Krause gave a short general talk, Glen Thompson responded to a toast on "touchdowns", Harold Kitson responded to a toast on "skirting the ends", Cecil Porter, team captain of 1912, responded to a team toast, Charles Sears talked about the occasion, Rex Baker spoke about the season, H.A. Van Antwerp, editor of the ROCKFORD REGISTER, talked on the topic "A View From the Sidelines", Otto Krause, from Hirth-Krause,  spoke on "Football As a Game" and Superintendent McNaughton ended the evening by giving a talk on how football preparation was not only good for the seasons but also would be beneficial in one's daily life.
At the end of the evening the team elected Harold Kitson to be the captain for 1913 and Gaylord Muir to be in charge of finances, equipment and scheduling for the next year. This was an important job which was not given to just any player. With no financing from the school district, players, parents and others covered the costs. Often fundraisers were held by various groups with proceeds going to the athletic association. I have been told that those attending the home contests were asked to contribute. I was also told that spectators were asked to pay an admission fee. Not sure what was done. I do know that there was no fence around the field or bleachers to sit in, so it would have been hard to determine whether a person paid or not. I think "passing the hat" seems more feasible.
Part 2
1911-12 School Year
 New uniforms were purchased in late September or early October and a game was scheduled with Grand Rapids Union (reserve team) for Saturday, October 21. It was postponed because of rain and not rescheduled. One reason for this was that other sports like baseball and boys and girls basketball were also played in the fall back then. The interest in the new sport, football, meant  that  boys baseball and basketball would start to be scheduled during other school seasons.
Finally, a football game was played at Rockford on Wednesday,  November  1, 1911. The opponent was the reserve squad from Grand Rapids Central High School. Rockford won 22-0 in what probably was our first football game since I could find none before it. Two days later, on Friday November 3, 2011, Rockford won again defeating a team from Jefferson Street in Grand Rapids 27-0. Then on Saturday, November 11, 2011 Rockford traveled to Grand Rapids where they lost a rematch with the Central High reserves 10-5.  Rockford's  first  season of  games resulted in a two win-one loss record.
Coaches for the 1911 season were Mr. Morrison (owner of a pharmacy in Rockford) and Fayette Dockeray. They were volunteers as the school district did not hire or pay coaches. The two volunteers were helped by H.D. McNaughton (school superintendent) who actively promoted the new sport and saw that action was taken to educate students and townspeople about the rules and fundamentals involved. He lectured the pupils in grades 9-12 about the game and had two teachers, Edna Haner and Edith Dennis, speak about their experiences attending football games in Ann Arbor.
Rockford's starting lineup in 1911 was: Neil Gundy (QB), Clifford Carlyle (RHB), Elliot (John) Oatley (LHB), Glen Thompson (FB), Howard Haag (C), Howard Smith (RG), Clare McNaughton (LG), Kenneth Rathbun (LT), Vern DePuy (RT), Lynn Carpenter (RE) and Cecil Porter (LE).
On November 28, 1911 Superintendent Mc Naughton gave a banquet at his Rockford home on Monroe Street to honor the team. Twenty four boys and guests were present. The team presented him with a fine leather rocking chair
Post 1
1910-11 School Year,  When it all began.
New Rockford School Superintendent Henry D. Mc Naughton introduced the idea of high school athletics to the  Rockford School system.
Football was to be one of the sports and a team was organized, but because of lack of uniforms and equipment, it was decided to wait until the fall of 1911 to play games. Some practices were held and scrimmages within the team happened. Superintendent  McNaughton was involved in the team organization.
Orange and Black are the school colors.
Some of the participants were: George Binder, Elliot (John) Oatley,  Lynn Carpenter, Clifford Carlyle, Howard Haag, Gaylord Muir, Leo Solomon, Grant Wolven, Cecil Porter, Glen Havens and Floyd Carpenter.
Practices were held on the high school grounds to the south of the school  building along Division Street and between Monroe and Main Streets,