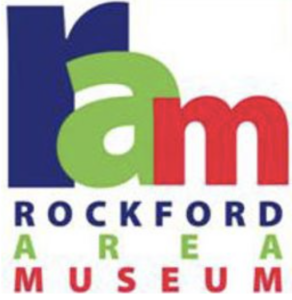 Rockford High School Football Early History
Rockford Football History – 1923 – By Terry Konkle
1923-24 School Year
Henry  Lemoin was hired to coach the 1923 football team replacing Charles Harris who mentored the 1922 squad to an outstanding 9-1-1 overall record and a league title. Coach Harris remained in the Rockford area but did not continue in any way with the school. I am not sure why. Besides  coaching,  Lemoin taught at the school and had another teacher, Jay Dykhouse, as a volunteer  assistant  in working with the team. Dykhouse also served as "faculty manager".
The fall of 1923 saw all Rockford students attending the same school for the entire year. The new high school on North Main Street had been occupied for part of the previous year, but not in the fall of 1922. All 1923 home football games were played behind the high school. This location was not new because the gridiron had been located there for several years as part of Rockford Athletic Park. The new school had been built on the west side of the park facing North Main Street. The west end zone of the field was near the building with the east end zone near Sigsbee Street. In other words the field ran east and west with the south sideline by the baseball diamond.
Coach Lemoin has a tough task because many players from the championship 1922 squad had graduated. Rockford was still a Class C school and part of the Northern group of league schools with the results of games with Sparta, Cedar Springs and Lowell deciding who won the traveling championship trophy. Rockford beat Sparta twice (26-0 and 25-13), claimed a forfeit win over Cedar springs (1-0) but lost to Lowell (32-0), so Lowell won the league.  We recorded victories over Grandville (12-0), Holland (6-0) and Edmore (66-0), but were defeated easily by Grand Rapids Union (40-0) a Class A team,  and by Greenville (39-7), Big Rapids (27-7) and Zeeland (7-6).  A season ending alumni game ended in a scoreless tie making the team's  overall  record: 6 wins, 5 losses and 1 tie.
Holden Spring, a four year performer, was the team captain. He was a lineman and considered one of the better players on the twety five member roster.  At season's end he was one of fourteen players to be awarded major "R" letters. The others were Cecil Burch (captain elect for the 1924 team), Julius Turner, Doug Oatley, Cliff Rector, Dick Jewell, George Peterson, Elwin Cooper, Harlow Blumenstein, Milford Finch, Clifton Wonders, Wayne Wilkinson, Ed Bennett and Willis Young. Seven team members, George Stouter, Glenn May, Myron Turner, Harold Wood, Marvin Turner, Lyle Dean and Ralph Wonders,  were  given  reserve "R" awards while Harold Bailey, Irving McFall, Ralph Souters  and Don Streeter were listed as Reserves.
On January 14, 2024 the football banquet was held in the school gymnasium and was served  by   the school's  Domestic Science  Department  under  the direction or Miss Chamberlin. The meal was planned, cooked and served by the girls in this group and, according to a newspaper account,  two hundred and fifty meals were served. The menu for the affair included chicken in timbales, mashed potatoes, buttered peas, rolls, butter, aspic salad, ice cream with caramel sauce, wafers, coffee and nuts.
Mr. Dykhouse was the toastmaster for the night and besides introducing the speakers and entertainment, he was praised for some of the jokes that he used. The high school orchestra played music; Frances Hunter did a vocal solo; J.F. Stevens performed a violin solo and two quartets sang songs. One of the quartets was made up of four girls (Gracia Strong, Frances Hunter, Nathalie Bellows and Eva Benham).
Captain Spring and captain elect Burch both spoke briefly as did team mascot Lewis Clark. Dr. W, C. Young (father of Willis Young) spoke about football from a taxpayer's viewpoint,  and Jack Blakely (player on the 1922 team who was in his freshmen year at the U. of M.) talked of his experiences at college. H.D. MacNaughton, the former Rockford Superintendent who  introduced  athletic programs to the district in the fall of 1910 spoke of  his memories from early football  contests in our town. He often was invited back for banquets and was a principal of a junior high in Grand Rapids in 1923
Coach  Lemoin  presented  the letter awards and spoke about each player. The evening ended with boys in the fifth grade putting on a three scene play entitled "Football in 1930. They were directed by Miss Sturgis with the play centered around an alumni game in 1930. Lots of clever comments were made about the 1923 players and what happened to them when the 1930 squad won the contest. The football season was successful and the town was very supportive of the team. Some players and Coach Lemoin would continue in 1924 and 1925.
Rockford Football History – 1922 – by Terry  Konkle
Prior to 1922 Rockford had established a solid football reputation and had had only one losing season, however,  we were only a Class C team and often played the reserve squads of larger Grand Rapids schools  like Union and Central. Coach Charles Harris was hired for his second year at the football helm, and his sixteen man group opened the 1922 campaign at Island Park in Grand Rapids against G.R. Union and lost 25-14, but in the process placed Rockford among the best programs in the area. The game and the situations surrounding it were very different.
To begin with Union scheduled two games on the same date playing Rockford in the first encounter and then Ionia in a second game. Coach Truesdale of Union had a large squad and used most of his players in both contests. Against Rockford he started his best players and was surprised when the first quarter ended in a 0-0 tie. Rockford had not played Union's regulars before, so many in the crowd of over 1,500 spectators wondered how Rockford could play so well. In the second stanza, Union put twelve points on the board and their substitutes played the last part of the first half.
Union's first team started the second half. A Rockford touchdown by Ron Finch and a Lyle Bennett drop kick for the extra point made the score 12-7 after three quarters. In the last quarter Union scored two touchdowns and a conversion while Rockford countered with a Shelby Graves score and a second Bennett kick to make the final 25-14. Union had been forced to play their better players to defeat Rockford, and the feeling was that we had one of the best Class C teams in the state.
The feeling proved to be true as Rockford went on to post a season mark of eight wins, one loss and one tie. We even proclaimed ourselves to be the Michigan Class C football champions and challenged East Jordan to a game because they made a similar claim. No game was played, but the football program for our Annual Football Banquet had printed on the cover  "MICHIGAN CHAMPS – CLASS C".
After the opening game loss, Rockford defeated Belding 31-7 and Cedar Springs 109-0. The Cedar game was played at Rockford with the locals scoring fifty-three points in the first quarter. Finch and Graves scored six touchdowns each and Benton Thurston scored three over the length of the game. Fremont hosted Rockford the next week and the contest was played in a driving rain storm resulting in a 0-0 tie. Neither team could get going offensively with Rockford only threatening to score one time. On the final play of the game a Fremont player intercepted a pass and was tackled by Graves, Finch and Thurston just short of the goal line. Two of our players, Lyle Bennett, who was injured, and Charles VanDellan did not go to Fremont. VanDellan, who was one of our largest players at 176 pounds, thought that the game would be cancelled because of the weather, so he went hunting instead of making the trip.
The next two games saw Rockford come from behind to post two wins. Big Rapids led 7-6 at halftime and were threatening to score in the third quarter when Finch intercepted a pass. Then Finch scored after a long Rockford drive.  Bennett added the extra point, and we held on for a 13-7 victory. A game with Greenville followed and Rockford fell behind early 7-0. Then Greenville moved the ball near our goal line again. A Greenville back was about to score when he fumbled into the end zone where Thurston recovered  for  Rockford. The rules at the time stated that if the defense recovered in the end zone, they got the ball on their thirty yard line, but the team that fumbled got two points. That made the score 9-0 for Greenville midway through the second quarter.
After stopping Rockford, Greenville blocked a punt and recovered on our twenty yard line. A first down pass was thrown which Graves intercepted and returned eighty yards for a score. Bennett's extra point made a 9-7 score at the half. Rockford then held Greenville scoreless in the second half while Finch scored a touchdown, missed the extra point but then kicked a thirty yard field goal to insure a 16-9 victory.
Four games remained. Two victories over Sparta (58-7 and 45-0) and one over Lowell (30-6) gave Rockford the league championship. The  fourth  game against Zeeland resulted in a 1-0 forfeit  victory for Rockford.
After the season twenty eight  players from West Michigan made the West Michigan Honor Teams (First Team,  Second Team and Honorable Mention).. Finch was the only Rockford player chosen making the first team as a halfback. Union was represented by seven players, Grand Haven had six, Muskegon had five (including Bennie Oosterbaan) and Grand Rapids Catholic Central four.  Cadillac had two while Grand Rapids Central, Grand Rapids South and Holland each had one.
Carrol "Chris" Burch was the 1922 team captain. He led an experienced  group led by Ron Finch who was in his seventh season. Arnold Hunting was in his sixth year, Shelby Graves in his fifth with Benton Thurston, Lyle Bennett and Holden Spring in their fourth. Other team members were: Charles VanDellen, Clint Perry,  Richard Jewell, Lewis Eggleston (Eggleston practiced with the team for three years before his father finally let him play, so he had four years of being  in action), Julius Turner, Hoyt Stocum, Jack Blakeley, Elwin Cooper and Jesse George Petersen. (In 1918 there was no season but if a player was on the team that year, I counted  it).
On December 15, 1922 the football banquet was held at the school. Speeches were given by Burch, Nance Newcombe (cheering for the team), Finch, Francis Peppler (manager-water boy), George Wood and Gay Muir (former players), and Coach Harris. The main address was given by P.L. "Pop" Churm  from Grand Rapids South High. Rockford School Superintendent Chapelle  presented the "R"  awards  to each player. In addition the High School orchestra performed three times.
Because of the success of the team it became the one that future Rockford football squads would be compared  to when being evaluated. Later, members became well known as lawyers, teachers, coaches, farmers and businessmen. They had several reunions over the  years  and were honored at Rockford's 1954 Homecoming game.
1921-22 School Year
Before the start of the 1921-22 school  year, the Rockford School system hired Charles Harris to teach Science classes in the high school along with coaching duties in football, basketball for boys, baseball and track. It was the first time in school history that the school district hired and paid a coach. It was common back then for a coach to mentor four sports.
Coach Harris and the 1921 team had a nine game schedule which included an alumni game on Thanksgiving. Only two league games were played along with seven non-league battles. Rockford opened the season by losing to the Grand Rapids Union Reserves 13-7. Greenville,  which  was often on our schedules, hosted Rockford in game two and came away with a 39-0 victory. The first win for Coach Harris and his team  came with a close 13-7 triumph over Fremont. Two road wins followed as Wayland (57-7) and Zeeland (27-0)  were defeated boosting the team's record to three wins and two defeats. A loss to Big Rapids (20-14) at home evened the overall mark (3-3). Cedar Springs came to Rockford for a league contest and lost 81-0. This left Lowell as the last contest before the Alumni game. The winner of the Lowell/Rockford game would be the Northern League champion and receive possession of the traveling league football trophy.
Lowell traveled to Rockford for the Saturday contest and fell behind 14-0 when Chris Burch passed to Jack Blakeley for six points followed by a Shelby Graves extra point kick. Then, after a long touchdown run by Graves and his second successful extra point kick the score stood at 14-0. Lowell, however, came back to score twice but missed their second extra point try. The final score was 14-13. Both teams had opportunities to score thwarted by key defensive plays and costly fumbles. One Rockford player, Neil Forrest, was praised in the account of the game for his "necktie tackles".
Rockford's school squad was favored against the Alumni squad because of superior conditioning and speedy runners, however, the Alumni, came into the contest with an attitude of revenge after losing in 1919 and 1920. Led by Elkins and Kitson the Alumni dominated the action and only determined defensive stands by the high school kept the final score at 40-0. Counting all encounters the team ended with a 5 win–4 loss campaign.
Fifteen players made up the 1921 squad. Shelby  Graves was the team captain. Jack Blakeley , Hoyt Stocum, Neil Forrest, Lyle Bennett, Richard Jewell, Clint Perry, ?? Wood, Benton Thurston, Julius Turner, Ed Bennett, Arnold Hunting, Chris Burch, Elwin Cooper and Holden Spring were his teammates. According to newspaper reports, Ron Finch, had decided the play for Grand Rapids South High, but he is not in the football team picture of South High and not mentioned  in their yearbook from 1921-22. In addition, a small clipping in the paper before the Lowell game states that Lowell was protesting using Finch against them in the championship game. Finch did not play, however, I am not sure what the situation was exactly.
Coach Harris was praised for his work, and Rockford football followers were looking forward to the 1922 season because most of the players, plus Finch, were planning to play. After football, Coach Harris had a good basketball year (8 wins-five losses in game results found). His baseball squad lost to Grandville in league trophy competition, but the track team won the championship.
Thanks to Terry Konkle for providing this information
Rockford High School Football Early History
1920-21 School Year
The 1920 Rockford football squad consisted of thirteen players with only two seniors. They were coached by a man with the last name of Cornwall. The school system again did not budget money for any sport, and the coach was not paid by the district. Practices were usually held on the school grounds and home games were played at Rockford Athletic Park. The field still ran east and west and there were no seats for spectators. The south sideline was partially on the baseball infield.
Eleven games were on the schedule, and all of them were contested with the team losing only twice. Both losses, however,  were to  Lowell  (28-0 and 7-0), so Lowell  won the league championship. The second Lowell contest was played at Rockford and was our first loss at home in three years. There were three tie games during the season, so the final record was 6 wins, 2 losses and 3 ties. After defeating the Union Reserves 19-0 and playing Greenville to a 6-6 tie in home contests, Rockford went to Grand Rapids where another tie (13-13) with Catholic Central occurred. The next three games saw Rockford beat Greenville (21-7), Newago (37-7) and Grand Rapids South High (14-7). The two losses to Lowell followed before Newago  was  beaten  again  (22-0). Rockford next played Big Rapids and the final score of 34-34 produced the third tie game of the year. The final game was a bit different from past Alumni contests because it was not played on Thanksgiving and the opponent was called the Alumni/American Legion team because many of the alumni members were veterans of World War I.
The high school team won the game by a 21-7 score. A newspaper account included  the  following  " the game was attended by one of the largest and most enthusiastic crowd of rooters which has attended a football game here in years. It was indeed a sad story for the Legion, and while no tears of anguish were seen upon the countenances of those returned veterans of many battles where they used bullets instead of footballs, nevertheless, it was indeed a game hard to lose to a bunch of youngsters as light as the local high school team, but tricks and headwork as well as practice was the undoing of the veterans who went down to defeat by the score of 21-0."
When Rockford lost to Lowell  7-0 the " ROCKFORD REGISTER"  reported "This gives Lowell the championship and the cup which Rockford has held during the past year, but of course we will have it back next year. The Lowell team is certainly a wonderful fighting machine for a small town team and are deserving of any credit which might be given them and best of all they are a nice clean bunch of fellows with whom it is a pleasure to enter into any contest. Two of the visitor's best men were on the sidelines walking with crutches and canes.— the game was a battle from start to finish worth many miles of travel to witness".
With only  thirteen  team members,  Rockford players, as their earlier teams had also done, participated with injuries that in later years would keep an athlete from participating. Rockford's two seniors, Robert Dockeray (right end) and Lawrence Jessup (center) along with underclassmen, Benton Thurston (left end), Lyle Bennett (left tackle), Holden Spring (left guard), John Helsel (right guard), Neil Forrest (right tackle),  Chris Burch (QB), Ron Finch (RHB), Shelby Graves (LHB) and Arnold Hunting (FB) made up the starting lineup with Henry Wager and Dick Jewell being the substitutes. In some games the Rockford backs  would change backfield positions.
Part 9
1918-19 School Year
The 1918 football season was cancelled in October  because  of  an influenza Pandemic that resulted in school closings across the United States. The team could have played two games prior to the closing date because in a 1919 student-made type of yearbook produced at the end of the school year, mention is made of completing two contests. The yearbook states that the Grand Rapids Central Reserves and Belding were the opponents.  I  have not  been able to find any scores of the games however. The yearbook lists the following as team members: Carrol Clark – Captain, Roy Elkins, Richard Krause, Ron Finch, Ed Hunting, Cliff Davis, Tom Addison, Ursal Moyes, Gerald Elkins, Harry Eggleston, Ardie Elkins, Roland Jessup, D.R. Perry and Bon Dockeray. There is no coach mentioned.
1919-20 School Year
In 1919 Rockford was still in the K.C.I.A.A. (Kent County Interscholastic Athletic Conference). We were one of three teams in the northern part of the league to sponsor football, so the conference schedule consisted of two games with Lowell and two with Sparta. Rockford also had two non-league encounters, one with Greenville and one with Grand Rapids Catholic Central. In addition, the Thanksgiving Alumni game was once again put in place.
James Idema was the new coach. His assistant was Everett Johnson who was the Rockford School Superintendent. Again, the coach was not paid by the school district and the players, parents and others had to handle the costs associated with the season. Fundraisers and gate receipts helped with the cost of the sport. Captain Ron Finch led the fourteen player squad. His teammates were:  Ardie Elkins, Ursal Moyes, Art Sturgis, Lyle Bennett, Holden Spring, Tom Addison, Shelby Graves, Lyle VanAntwerp,  Richard Krause, Gerald Elkins, Ken Jaqua, Benton Thurston and Bob Dockeray.
After losing to Greenville (34-28) to begin the year, Rockford defeated Sparta 12-7 and Lowell 20-0 to post a 2-0 league mark. A 7-0 win over Grand Rapids Catholic Central was followed by an upset defeat by Lowell (12-6). During the season Lowell and Sparta split their contests, so going into the second Sparta game,  Rockford needed a victory to win the league title whereas a Sparta triumph would force a three way tie with each team having a 2-2 record.
Leading up to the game which was played in Rockford, bad feelings were made part of the picture as word spread that the Sparta coach had made some nasty comments about our players. In a "Rockford Register" column from November 13, 1919 (the game was played on November 15) the following was written: "It's sure to be a game worth going some distance to see, and if you are interested in the home boys, for the love of Mike, get out and help. If business interferes with your attending, quit the business, just so you are present  and help give Sparta another trimming for the words used by their coach in regard to our home town boys."
To be sure that the game would be controlled, W.R. Griffin, a quarterback on the 32nd Division football team was brought in from Grand Rapids to referee. Spectators, from both towns, lined the field and moved up and down the sidelines  at Rockford Athletic Park (located behind where the school administration building is now). There was no school there in 1919 and the field ran east and west. According to newspaper accounts, both teams played well and there were no problems. A Rockford field goal at the end of the first half looked to be good, but time ran out just before the kick. Finally, late in the game, after a series of runs into the Sparta defense by Gerald Elkins and Ron Finch, Finch was able to score. A poor snap on the extra point try gave Rockford a 6-0 lead. The Rockford defense then held the visitors scoreless for the victory.
By winning, Rockford posted a league mark of 3-1 while Lowell ended at 2-2 and Sparta 1-3. Rockford gained possession (for one year) of a traveling football trophy. When a school won three football championships in a row, the trophy became permanent. A sports editor for the "Grand Rapids Herald" praised the Rockford football team and our town by writing "All of Rockford is very proud of the record made this season by the Rockford  football  team which won the Kent County Championship by its 6-0 victory Saturday  at Rockford. No team in the state has been more loyally supported than the Rockford boys. It is said that the teamwork of the Rockford players was second to that of no high school team in the state."
The team finished the campaign by defeating the alumni 7-0 on Thanksgiving to end with an overall record of five  wins and two losses. Then on December 4, 1919 the annual football banquet was held at the Methodist Church. Several presentations were made and H.D. Mac Naughton, the man responsible for starting Rockford High athletics, gave the featured talk entitled "Football and the Game of Life". Players were also given felt letters as an award.
Part 8
1917-18 School Year
New Rockford school Superintendent, C. R. Nichols, was the coach in 1917. The school district did not budget money for athletics, so he was not paid unless parents, players or others reimbursed him. All sports were self-supporting, but fundraisers, gate receipts and donations covered some of the expenses. Senior fullback Roy Elkins captained the squad made up of sixteen players. It seems that  only league games were played because, so far, I can only find records of games against Kent City, Sparta and Lowell, however there is a gap of no games  between a home victory (55-0) over Kent City on September 29 and another home triumph over Sparta (100-0) on October 20. The plan, I believe was to have each league team face the other members two times during the season, but that does not happen with Kent City and Sparta. Sparta was supposed to host Rockford on November 3, but Sparta cancelled the game.
The Rockford 100-0 win over Sparta was to be the most points scored in football in our history (through 2019 season) and the lopsided victory was the reason for not having a second contest. Sparta was a natural rival for Rockford and sometimes bad feelings happened between the two towns. It did not help that Rockford tried successfully to score on the last play of the game in order to reach the one hundred point plateau.
Rockford and Lowell played twice during the regular season. Lowell won at Lowell (24-13) and Rockford won at home (14-7). Since the two teams ended with identical league records, a third game for the County Championship was played on November 24 at Ramona Park in Grand Rapids. Lowell defeated Rockford (7-6) and became league champions. Coach Nichol's team ended with a three win two loss record. There was no alumni game.
Rockford home football contests were played at Rockford Athletic Park  which was located on Lewis Street. There was no high school on North Main in 1917. The football field ran east/west with the south sideline along the edge of the baseball diamond.  The goal posts were located on the goal line and there were no bleachers. Spectators were charged admission (.25 cents in advance and .30 cents  at the gate) and usually walked the sidelines following the action.
The following players made up the roster: Lyle Van Antwerp, Verlon Billings, Louis Gotting, Arnold Hunting, Gerald Elkins, Shelby Graves, Ron Finch, Richard Krause, George Wood, Adolph Krause, Roy Elkins, Ben Gilbert, Otto Spannenberg, Charles Willett, Ursal Moyes and Tom Addison. Most football practices were held in the area to the south of the high school along Division Street.
Part 7
1916-17 School Year
Starting in 1911 Rockford was a member of the North Kent Athletic Association. Besides Rockford the conference members were Kent City, Sparta, Cedar Springs and Sand Lake. Some schools in the league did not offer every  sport, so it was difficult to determine league champions especially in football. Most championships were decided in league field day competition held in the Spring, but football was not include
The 1916 season was an unusual one for Rockford. C.W. Loveland started the year as the coach and the town was enthused when Sparta was defeated 18-0 to open the competition.  In 1916 the only conference team on Rockford's schedule was Sparta. A 13-6 defeat to the Union Reserves created a lot of concern because, according to game accounts, Union Reserve players did a lot of late hitting and sometimes threw players to the ground after action was over. Ralph Forrest, of Rockford, broke his collar bone and was out for the rest of the year. South High from Grand Rapids defeated Rockford at Ramona Park 30-0 in the third game and Coach Loveland was criticized for poor coaching. Whether he was dismissed or left on his own, he was replaced by a man named Brown before the next encounter.
Coach Brown was praised when the  Grand Rapids Panthers were defeated 7-0, but losses to Big Rapids and Grand Rapids Catholic Central followed and the rest of the games were cancelled by Rockford. I am not sure why this happened but it may have been the lack of healthy players or perhaps Coach Brown left. In any event scheduled games with Grand Rapids Central Reserves, Muskegon Reserves and Sparta were not played. The team record was two victories and four defeats.
The captain in 1916 was Otto Spannenberg. Other members were: Ralph Forrest, James Helsel, George Benham, Verlon Billings, Adolph Krause, Earl Soper, Miles Douglas, Roy Elkins, George Wood ?? Jennings, Edward Miller, Richard Krause, Charles Willett, Arnold Hunting, Tom Addison, ?? Emmons and ?? Gilbert. Ron Finch was supposedly the mascot, but he did play in at least one game. He would continue to perform in football at Rockford and at Grand Rapids South High until graduating in 1923. Arnold Hunting also played at Rockford each season until his 1923 graduation. That means they participated for six seasons (no football in 1918 or it would have been seven). Miles Douglas (end) was the first boy from Rockford to be killed in 1918 during World War I.
There was no Alumni game at Thanksgiving of 1916 which was a disappointment to many,  and I could not find mention of a banquet at the end of the year. However, football was not dead in Rockford because it was decided that each year a player would be chosen to go to a University of Michigan football game as a reward. Otto Spannenberg was selected to attend the game. Roy Elkins was chosen captain for 1917, and Adolph Krause was given the job of putting together a 1917 schedule with  the suggestion of getting teams of about the same size as the locals.
Part 6
Rockford High School Football Early History
1915-16 School Year
M. Tenny was the new coach for the 1915 football season. As in other years the program was funded by donations, fundraisers and gate receipts. Coach Tenny was not paid by the school system which did not place money in their budget for any sports. Players, parents and others paid for equipment and expenses.
There were sixteen players on the team with seven seniors, including captain Bert Sedgman, as part of the roster. The following made up the squad: Bert Sedgman (end), Walter Leach (end), Dale Hutchings (guard), Otto Spanenberg (guard), Weston Binder (QB), Verlon Billings (center), Roy Elkins (tackle), Edison Cramer (LHB), James Helsel (tackle), Myles Douglas (end), Marvin Fields (guard), Adolph Krause (guard), Carrol Clark (QB), Maurice Cranmer (center), Mylon Billings (FB) and William Binder (RHB). Sometimes back then player's names were spelled differently at times. For instance Otto Spanenberg sometimes is spelled Spanenberger. He is listed in the 1918 graduating class as Spanenberg, so that is the name I will use. Also Glen Thompson was not on the roster as he graduated in 1915 and did not come back to play. An insert in the season ending banquet program said that  Rockford's players averaged 133 pounds per player while the opposition weighed 151 per man.
An eight game schedule began on Saturday, October 2 with a 7-0 home victory over Sparta. Most games were played on Saturdays (no lighted fields) and Rockford only went on the road on one occasion all year. Central Reserves out of Grand Rapids came to Rockford on October 16 with the game ending in a 0-0 tie. During the action Walter Leach of Rockford intercepted a pass and ran it back for an apparent touchdown, but the referee ruled that a player could not advance an interception. Later, Central's varsity coach, Dinnie Upton, contacted us and said that the referee was wrong and awarded us a 6-0 win. We took it!
Rockford then lost twice as Muskegon Reserves won 7-0 and Plainwell convincingly defeated us 47-7. With the season mark at two wins and two defeats, Rockford triumphed over the Grand Rapids Union Reserves 18-0 before falling at Grand Haven 48-14. New South High traveled here on November 20 and was defeated 27-0. The final contest was played on Thanksgiving when the annual alumni battle occurred. The alumni led by Rex Baker won 28-0. Rockford counted the alumni games as regular encounters, so our overall record was four wins and four losses.
On December 10, 1915 the fifth annual football banquet was held at the I.O.O.F.  Hall at 6:30 P.M. According to the program it was sponsored by the Rockford High School  Athletic  Asssociation. The toastmaster  was  G.A. Krause who was introduced by Arthur Perry.  Perry was the team manager in charge of arranging a schedule and handling the money. The five member high school orchestra was featured five times during the evening including musical selections to begin and close the proceedings.
Captain  Sedgman spoke about the team and Rex Baker represented the alumni  by talking about "In the Game Again".  Baker often coached the alumni team and helped sometimes with other teams including girl's  basketball.  Coach Tenny's  topic was "Head Work" and ROCKFORD REGISTER editor H.A. VanAntwerp  commented on "Football, A Training For Statesmanship".  Coach Upton, of Central High School,  gave a talk called "The Game of Games".  A banquet program listed the following as parts of the menu: Punch, Saratoga Chips, Celery, Olives, Pickles, Oyster Soup, Chicken-Pie, Mashed Potatoes, Light Rolls, Brown Bread, Salads,  Pumpkin Pie, Cheese, Coffee, Cake and Fruit. Otto Spanenberg  was chosen captain for 1916.
Part 5
Rockford High School Football Early History
1914-15 School Year
Will Spaulding "Bill" Lindsley was the volunteer coach in 1914. He was a graduate of Grand Rapids Central High School  where he was an outstanding player in one of the best  football programs at that time. His coach at Central was Dinnie Upton, who was recognized as one of the top football mentors in the state. Coach Upton often came to Rockford to instruct our players and spoke at Rockford's football banquet in 1913 and 1914.
One of Rockford's best players in 1913 was a speedy halfback, Glenn " Frog" Thompson. He did not play for Rockford in 1914 because he went to school at Central High and starred for Coach Upton for one year before returning to Rockford in 1915. Even though Thompson was absent, Bill Lindsley still had a talented group of players led by Captain Vern DePuy.  Nine seniors were part of the fourteen man squad, and their experience helped post a season record of eight victories, one loss and one tie. One of the wins was by forfeit over Belding. As in 1913, Central High and Union High from Grand Rapids scheduled games with Rockford using their reserves. Muskegon did the same. Rockford defeated all three reserve teams. Grand Rapids Catholic Central played their regulars and that game resulted in a 6-6 tie. Sparta, Big Rapids and Grand Haven were defeated, however,  Plainwell  gave the team their only loss by a 24-12 score.
As in earlier seasons, Henry Mc Naughton, Rockford's  School Superintendent helped at times and both he and Coach Lindsley appear in the team photo. The photo was taken on the west side of the high school. Some of the players are wearing varsity sweaters with the Rockford letter on them. Coach Lindsley has on a Central High letter sweater. Practices were held to the south of the building between the school and Division Street.
A very unusual thing, but perhaps common in those days,  was that Coach Lindsley was the referee for three of Rockford's home games. I am not sure how he managed to coach and officiate, but he did. He also got paid for officiating.
At the end of the successful season a contest was held with a prize of $1.00 given to the student who could write the best poem about the team. Otto Spannenberg, a ninth grade team member,  won the contest with this poem:
THE CLOSE OF THE FOOTBALL SEASON
The football season is o'er at last,
Hurrah the player's say;
They lay their suits away with joy,
To wear some other day.
But sad to say when that time comes,
Some faces won't be seen;
That this year helped to win the games,
And make up the best team.
There's Porter, Muir and Renwick
A strong triumvirate;
Who for good straight football,
Just simply can't be beat.
May DePuy, Lamb and Binder,
Never forget the time;
When they helped their comrades,
Shove the ball across the line.
And  then  there is that Baker,
Oh my, what a quarterback;
Who, with his fighting spirit
Put G.R. off the map.
All of these will graduate,
And higher stations seek;
You'd think at first that next year's team
Would be a little weak.
But material we'll have plenty.
And win the games we will;
All that we'll need is another coach,
Like our good old brother Bill.
Though in this game of football,
Hard knocks we get you see;
But there's nothing like the good old game,
When played as it ought to be.
Part 4
1913-14 School  Year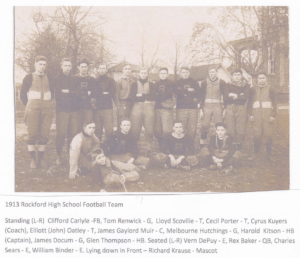 Cyrus Kuyers was the volunteer  coach of the 1913 squad which consisted of fourteen regular players and a mascot.  James Muir, who was a player on the team,  was elected to be the manager in charge of putting together a schedule. This was a major task because there were not a lot of schools  the size of Rockford with football teams. For that reason, games  with  larger schools from Grand Rapids were necessary. The problem was that the city schools were not willing to take a chance of losing to a small program, so would only use their reserves against us. Muir was able to schedule ten regular season  contests plus one practice encounter to start the year. The practice battle was against businessmen from Rockford.
The practice game was publicized as a fundraiser for the program and admission was charged. The average weight of the businessmen was about twenty five pounds more per man than that of the school team, but conditioning played a major role as the school triumphed 66-0. Twenty five dollars was collected from the spectators. The referee was Bill Lindsley, a senior varsity player at Grand Rapids Central High School, and he was well liked by both squads. In 1914 he became Rockford's coach.
The following poem was composed about the game:
Pean  Of Victory
Our hearts were light, our spirits bold,
On that September day;
As we lined up, ready to fight,
The business  men's array.
Our line held their savage assaults,
Our tackling was superb;
We took advantage of their faults,
But us they could not curb.
And sixty six we made our score,
The business men's was blank;
Now may our team forever more,
Hold its place in first rank.
R.H.S.
The idea of playing a fundraising game with businessmen from Rockford was discontinued after one year and replaced with a contest with alumni players going against the school team during a few years.
Rockford played the following schedule of regular season games:
September 29 – Rockford traveled to Sparta and were victorious  89-0. Sparta claimed we used players who were not enrolled in school and refused to play a return game.
October 4 – A game in Grand Rapids against Central High School's Reserves resulted in a 20-13 defeat. It would be our only loss of the year.
October 11 – Allegan was defeated 20-13 at Rockford.
October 18 – Playing at home Rockford beat the Union Reserves 87-0.
October 25 – Grand Rapids Catholic Central was beaten 15-0 in Grand Rapids.
November 1 – Rockford hosted Ionia and won 47-0.
November 8 – Grand Rapids Catholic Central lost a return battle at Rockford 19-0
November 15 – At home Rockford avenged their only loss defeating the G.R. Central Reserves 17-13.
November 22 – Plainwell forfeited to Rockford 1-0.
November 27 – Rockford finished at home beating Charlotte 41-6.
The 1913 campaign put Rockford on the football map as a school to be respected. Football was regarded by many as a brutal, sometimes dangerous sport and players often had to find a way to handle tough situations. Games were sixty minutes in length consisting of four fifteen minute quarters. In a column written by Rockford historian, Homer Burch, appearing in the October 6, 1966 ROCKFORD REGISTER,  he mentioned that James Muir had his nose broken three times in one week, but still played in the next game.
Part 3
1912-13 School  Year
 In the 1912-13 school year, Rockford had 279 students (this was more than the system had ever had in a year before this) in the whole system with only 98 of them in the high school. There were only seven seniors in 1912, but the numbers did not slow the growth and interest in football. In fact there were enough boys to have two teams that could scrimmage each other. There were no age rules at that time, so often seventh and eighth graders participated.
Mr. Morrison and Fayette Dockeray, along with school superintendent H.D. McNaughton, served as volunteer coaches. The squad consisted of regulars and reserves. The regulars were: Cliff Carlyle, Melbourne Hutchings, Art McAuley, Ken Rathbun, Howard Smith, Harold Kitson, Gaylord Muir, Vern DePuy, Charles Sears, Otto Spannenberger, Rex Baker, Glen Thompson, Cecil Porter and Elliott (John) Oatley. The reserves were: Renwick, Johnson, Strand, Lamb, Norton, Finch, Cranmer, Binder, Shaw and McNaughton. Because of the substitution rules back then, starters usually played the whole contest unless injured.
Nine games were scheduled but only seven were played (Rockford claimed forfeit victories in two contests when the opposition did not show up and field a team). The season opened on September 21, 1912 at Sparta with the home squad winning 19-7. On October 3, Sparta came to Rockford and won 12-0. Glen Thompson scored Rockford's only touchdown while Moore scored three times for Sparta in the two games.
Before Rockford played again, a scrimmage game was held (October 5) between the regulars and reserves with the regulars coming out victorious by a 12-0 score. Then on October 12 Rockford traveled to Plainwell and gained a 46-0 victory. An account of the game that appeared in the ROCKFORD REGISTER stated that Plainwell was a "dirty" team who did a lot of tripping and neck tackling.
Belding came to Rockford on October 19 and won 41-6. Thompson scored Rockford's T.D. Rockford was hampered by the fact that several of the starters had to work harvesting potatoes that afternoon. Rockford also claimed that Belding used some players who were not students. Later in the season,  near the end of November, Belding agreed to a rematch at their field. An automobile was hired along with a livery rig to make the trip, but Belding wasn't ready to play. Rockford took a 1-0 forfeit win.
On November 2, at Rockford, the Union High reserves lost 34-0. Thompson rushed for three scores and kicked at least one extra point. One run was over sixty yards. Union's reserves did not come to Rockford for a second contest on November 21, so Rockford had another 1-0 forfeit win. Rockford's reserves played Cedar Springs regulars on November 21 and posted a 2-0 victory. This could be our first J.V. game.
The Jefferson Avenue team from Grand Rapids came to Rockford on November 9. Rockford won 34-0. After the contest, Rockford hosted a meal for both squads and a good relationship was started for members of the teams. Rockford's final game was at Cedar Springs on November 14. Rockford traveled by train on a Thursday night and led 33-0 at halftime when darkness ended the contest. Counting the forfeits, Rockford ended with a six win – three loss  season.
During the 1912 season Rockford had what was called a "Yell Squad" lad by Margaret Oatley, a student who was known for being able to create enthusiasm at the games. The group was especially loud on the train trip back to Rockford from Cedar Springs. They even led a loud procession through town upon the team's return that evening.
On December 20, 1912 a second annual football banquet was held at the Methodist Church. Mr. Morrison was the toastmaster and, unlike the gathering in 1911, a program was planned that included the following: Victor Krause gave a short general talk, Glen Thompson responded to a toast on "touchdowns", Harold Kitson responded to a toast on "skirting the ends", Cecil Porter, team captain of 1912, responded to a team toast, Charles Sears talked about the occasion, Rex Baker spoke about the season, H.A. Van Antwerp, editor of the ROCKFORD REGISTER, talked on the topic "A View From the Sidelines", Otto Krause, from Hirth-Krause,  spoke on "Football As a Game" and Superintendent McNaughton ended the evening by giving a talk on how football preparation was not only good for the seasons but also would be beneficial in one's daily life.
At the end of the evening the team elected Harold Kitson to be the captain for 1913 and Gaylord Muir to be in charge of finances, equipment and scheduling for the next year. This was an important job which was not given to just any player. With no financing from the school district, players, parents and others covered the costs. Often fundraisers were held by various groups with proceeds going to the athletic association. I have been told that those attending the home contests were asked to contribute. I was also told that spectators were asked to pay an admission fee. Not sure what was done. I do know that there was no fence around the field or bleachers to sit in, so it would have been hard to determine whether a person paid or not. I think "passing the hat" seems more feasible.
Part 2
1911-12 School Year
 New uniforms were purchased in late September or early October and a game was scheduled with Grand Rapids Union (reserve team) for Saturday, October 21. It was postponed because of rain and not rescheduled. One reason for this was that other sports like baseball and boys and girls basketball were also played in the fall back then. The interest in the new sport, football, meant  that  boys baseball and basketball would start to be scheduled during other school seasons.
Finally, a football game was played at Rockford on Wednesday,  November  1, 1911. The opponent was the reserve squad from Grand Rapids Central High School. Rockford won 22-0 in what probably was our first football game since I could find none before it. Two days later, on Friday November 3, 2011, Rockford won again defeating a team from Jefferson Street in Grand Rapids 27-0. Then on Saturday, November 11, 2011 Rockford traveled to Grand Rapids where they lost a rematch with the Central High reserves 10-5.  Rockford's  first  season of  games resulted in a two win-one loss record.
Coaches for the 1911 season were Mr. Morrison (owner of a pharmacy in Rockford) and Fayette Dockeray. They were volunteers as the school district did not hire or pay coaches. The two volunteers were helped by H.D. McNaughton (school superintendent) who actively promoted the new sport and saw that action was taken to educate students and townspeople about the rules and fundamentals involved. He lectured the pupils in grades 9-12 about the game and had two teachers, Edna Haner and Edith Dennis, speak about their experiences attending football games in Ann Arbor.
Rockford's starting lineup in 1911 was: Neil Gundy (QB), Clifford Carlyle (RHB), Elliot (John) Oatley (LHB), Glen Thompson (FB), Howard Haag (C), Howard Smith (RG), Clare McNaughton (LG), Kenneth Rathbun (LT), Vern DePuy (RT), Lynn Carpenter (RE) and Cecil Porter (LE).
On November 28, 1911 Superintendent Mc Naughton gave a banquet at his Rockford home on Monroe Street to honor the team. Twenty four boys and guests were present. The team presented him with a fine leather rocking chair
Post 1
1910-11 School Year,  When it all began.
New Rockford School Superintendent Henry D. Mc Naughton introduced the idea of high school athletics to the  Rockford School system.
Football was to be one of the sports and a team was organized, but because of lack of uniforms and equipment, it was decided to wait until the fall of 1911 to play games. Some practices were held and scrimmages within the team happened. Superintendent  McNaughton was involved in the team organization.
Orange and Black are the school colors.
Some of the participants were: George Binder, Elliot (John) Oatley,  Lynn Carpenter, Clifford Carlyle, Howard Haag, Gaylord Muir, Leo Solomon, Grant Wolven, Cecil Porter, Glen Havens and Floyd Carpenter.
Practices were held on the high school grounds to the south of the school  building along Division Street and between Monroe and Main Streets,