Photo Credit: Mandy DeVries
BOYS BASKETBALL
Alma 52 Frankenmuth 42: The Panthers edged the Eagles in a TVC battle. Alma's defense was stifling, holding the 'Muth to 24% shooting. Ryan Brenner led the Eagles with 14 points, while Cade Frillici led all scorers with 17 points for Alma.
Benton Harbor 79 Pewamo Westphalia 57: The Tigers earned a victory against a strong PW team. Trucel Singleton led Benton Harbor with 30 points, hitting six triples along the way. Kentrell Pullian added 22 points.
Benzie Central 70 Buckley 59: The Huskies improve to 10-6 with a win over Buckley. Nate Childers led all scorers with 26 points, Seth Wilkinson chipped in 14, and Jaxon Childers finished with 12 points.
Big Rapids 66 Grant 51
Caledonia 57 Grandville 56: It took overtime, but Coach Phil Visser's Fighting Scots improve to 7-6 overall and in the OK Red. Tommy Gregwer led Grandville with 18 points, while Nick Henry paced the Fighting Scots with 14 points.
Covenant Christian 76 Potter's House 51
East Kentwood 63 Jenison 39: The Falcons defeated the Wildcats in OK Red play. This game was close, 40-34 Falcons after the third quarter, but in the final frame East Kentwood pulled away. Marshaun Flakes scored 11 of his 13 points in the fourth quarter, Christian Humphrey added 13 points of his own, and Joshua Mayhue contributed 12. Chase Rumler (13) and Carter VanManen (9) led the winless Wildcats in scoring.
Fennville 70 Saugatuck 48
Fremont 67 Chippewa Hills 20
Fruitport Calvary Christian 53 Holland Calvary 47
Grand River Prep 55 Zion Christian 50
Hamilton 56 Coopersville 49
Hart 53 Mason County Central 40: The Pirates captured a WMC victory against the Spartans after building a 16-5 first quarter advantage. The lead tightened to three points, but MCC was never able to even the score before Hart went on a fourth quarter run. Kellen Kimes led the Pirates with 20 points, Zach Bitely added 10 points and Kody Charron chipped in 6 points.
Holland 66 Mona Shores 36
Holton 56 White Cloud 24: The Red Devils built an 18-3 first quarter edge, and they expanded on that margin in a CSAA-Silver victory. This victory gave Holton at least a share of the league title with a 9-0 record and only one game to play. Aidan Poling paced the team with 22 points, Wyatt Monette added 12 points and Austin Fowler scored 8. Sam Venema led White Cloud with 9 points.
Lakeview 60 Hesperia 24: The Wildcats took down the Panthers in CSAA-Silver action. Their ability to score on offensive rebounds propelled them ahead of Hesperia. In the third quarter, Lakeview outscored Hesperia 18-0. Maddox Mosley led Hesperia with 9 points.
Montague 58 Oakridge 57: The Wildcats and Eagles battled in WMC play on Tuesday, and they needed an overtime period to decide a winner. With nine seconds to go in regulation, Isaiah Archison hit a field goal to send it to overtime. The 'Gue outscored Oakridge 8-7 in the bonus frame. The Eagles had a chance to hit a game-winner, but it did not go. Archison was the leading scorer for Montague with 18 points and 8 rebounds, while Drew Collins added 16 points.
Orchard View 82 Muskegon Heights 54: With only one game left in their regular season, the Cardinals have clinched at least a share of the Lakes 8 Conference title. They took down the Tigers by 28 points on Tuesday night. Orchard View raced out to a 20-4 lead in the first quarter, and they never looked back. Larry Brewer III led OV with 28 points, Ke'ontae Barnes added 23, and Jay Jay Tunstull chipped in 16. Darius Williams finished with 6 points, 10 rebounds and 11 assists.
Ottawa Hills 75 Middleville 65: The Bengals defeated the Trojans in OK Gold play, but Austin Van Elst had himself a game. The Middleville star finished with 35 points and 16 rebounds.
Reeths Puffer 81 Muskegon 79: The Rockets and Big Reds played an instant classic, as they needed a pair of overtimes to decide a winner. Puffer held a 60-47 lead with three minutes left before Muskegon stormed back to force overtime with the game square at 62.
Rockford 55 West Ottawa 48: The Rams secured an outright OK Red title with a victory over the Panthers. This game was close throughout, with Rockford holding on for a late victory. Sam Krist led the way with 16 points, Jack Lamancusa added 13 points, and Calvin Kibbe scored 10. Kobe Haglund and Colin Shriver eached scored 11 points for West Ottawa
Shelby 53 North Muskegon 32: The Tigers edged the Norsemen in WMC play, capturing the edge in each quarter. Logan Claeys scored 22 points for Shelby, while Joseph Hayes added 18. Will Gallo led North Muskegon with 9 points.
South Christian 74 Cedar Springs 16: The Sailors celebrated Senior Day with an array of offense, dominating the Red Hawks. South Christian shot 53% from the field, burying 13 triples, and they forced 25 Cedar Springs turnovers. Isaac Northouse led the Sailors with 14 points, while Evan Roedema and Jake DeHaan each chipped in 13 points.
Spring Lake 69 Allendale 54
Swan Valley 56 Birch Run 39
Unity Christian 50 Fruitport 35
West Michigan Aviation Academy 65 Holland Black River 36
Zeeland East 52 Zeeland West 40: The Chix move to 14-0 overall and 12-0 in league play by securing a season sweep of the rival Dux. Trip Riemersma led East with 17 points and Nate Claerbaut added 15. Kylan Arnold led West with 16 points.
GIRLS BASKETBALL
Allendale 40 Spring Lake 26: The Falcons forced 24 turnovers and held the Lakers to 20% shooting from the floor in this OK Blue victory. Allendale built a 27-6 halftime lead on their way to victory. Meah Bajt led Spring Lake with 6 points.
Big Rapids 44 Grant 19
Byron Center 65 Forest Hills Central 42
Caledonia 52 Grandville 51: The Fighting Scots earned just their second victory of 2021, edging Grandville by a point. Both teams are now 2-11 in OK Red play with a game to go.
Cedar Springs 41 South Christian 23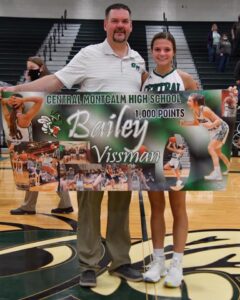 Central Montcalm 57 Tri-County 46: The Hornets took down the Vikings in CSAA-Gold play to improve to 10-3 in the league. Bailey Vissman led CM with 19 points and she eclipsed the 1,000 career point mark in the process. London Eldridge added 12 points and Maia Sexton scored 9. Tri-County was led by Mary Siple (17) and Alicia Bowens (10).
Covenant Christian 53 Potter's House 41
Fremont 54 Chippewa Hills 37
Greenville 67 Northview 33
Hesperia 72 Lakeview 20
Hudsonville 56 Grand Haven 30: The Eagles captured the outright conference title in the OK Red by completing a season sweep of the Bucs. It has been an extremely successful year for Hudsonville as they are 15-1 overall and 13-0 in the OK Red.
Jenison 44 East Kentwood 43: The Wildcats delivered a bit of a stunner, taking down the Falcons on the road. In their first meeting back on February 25, Kentwood won by 38 points, so this game was a drastic change of events.
Kent City 65 Morley Stanwood 36: The Eagles secured an outright CSAA-Silver title with a road victory against the Mohawks. Kenzie Bowers led the team with 24 points, Jenna Harrison added 12 and Madelyn Geers chipped in 10. Brooke Brauher (13) led Morley.
Martin 57 Watervliet 55: The Clippers and Panthers needed overtime to settle this thrilling contest. Martin trailed by five going into the fourth quarter, and with twelve seconds left, Gracie Shettler buried a three to tie the game. They would outscore Watervliet 7-5 in the extra frame. Shettler finished the game with 23 points, Bri Warner added 13, and Makala Goddard hit three clutch triples to finish with 9. Watervliet was led by Samantha Dietz, who scored 19 points.
Middleville 56 Ottawa Hills 31: The Trojans secured an OK Gold victory when they bested the Bengals on Tuesday night. Paige Vanstee led Middleville with 12 points, while Keanna Dudik and Hailey Campbell each had 10. Ottawa Hills was led by Aynesha Easely and Jayla Luckett (8 points).
Muskegon 40 Reeths Puffer 37: The Big Reds edged the Rockets thanks to a strong fourth quarter finish. They secured a 12-6 fourth quarter advantage to rally from a three-point deficit. Sophia Hekkema led Puffer with 9 points and 6 rebounds.
Muskegon Catholic Central 46 Manistee 34: The Crusaders got out to a 20-0 first quarter lead and staved off a late Chippewa charge to secure a Lakes 8 victory. Erin LaVigne and Claire LaVigne each scored 10 points, while McKenna Gentry added 9 points.
Muskegon Heights 67 Orchard View 26: In a battle of winless teams, the Tigers dominated from the opening tip-off to improve to 1-3. Orchard View slides to 0-17 with this defeat.
Newaygo 67 Reed City 24: The Lions move to 13-0 in CSAA-Gold play with a victory against the Coyotes. It was 25-13 at halftime before Newaygo outscored Reed City 42-14 in the second half to turn this game into a blowout. Emmerson Goodin led the Lions with 22 points, 10 steals and 8 rebounds. Jaxi Long scored 16 points and Lily Swinehart added 9.
Rockford 70 West Ottawa 40
Saugatuck 50 Fennville 10: The Trailblazers took down the Blackhawks in a SAC-Lakeshore contest. It was 15-7 Saugatuck after the first quarter, and they expanded that to 28-7 halftime margin. Tonight was the "Never Forgotten" game where they honored Wes Leonard to raise awareness for sudden cardiac arrest and having AEDs in schools.
Standish-Sterling 40 Saginaw Nouvel 37: The Panthers secured the TVC title with a victory over Nouvel. In a standout team performance, they took down the other team with an undefeated league record to capture the outright league crown.
Tri-Unity 60 Wellspring Prep 50
Union 71 Wyoming 63
Unity Christian 56 Fruitport 10
West Catholic 61 Holland Christian 30
West Michigan Aviation Academy 51 Holland Black River 26
Whitehall 53 Ravenna 19: The Vikings recorded another WMC victory by dominating Ravenna. They got to work at the opening tip, creating a 17-4 lead after the first quarter of play. Kenzie Johnson scored 13 points, Greta Hosticka added 12, and Karleigh Jeffries finished with 11 points.
Zion Christian 51 Grand River Prep 21: The Alliance League title was secured outright by the Mountaineers as they dominated Grand River Prep. ZC is now 11-1 on the season.