The Hastings Saxons, fresh off their Interstate 8 title, welcomed the Three Rivers Wildcats to town for a Division 4 playoff opener. This was the first playoff game since 2012 for Hastings, a lengthy eight-year absence. An even longer drought was their last playoff win, which occurred all the way back in 2007 when they beat Gull Lake. After Friday night, they have now cleared both of those hurdles, as they dismantled Three Rivers 58-0.
Just thirteen seconds into the game, Hastings got this thing started. TJ Russell darted through the Three Rivers' defense for an eighty-yard touchdown run. After a quick stop, Robby Slaughter joined the party with a twenty yard touchdown rush. A two-point pass from Mason Denton to Evan Eastman gave the team a 14-0 lead in the opening four minutes.
Slaughter would score again on Hastings' next drive, as he ran twenty yards for a touchdown. After getting another defensive stop, the Saxons scored immediately. TJ Russell bested his first long run with a ninety-two yard run through the defense for a score. He was not done there however, as he would score a third first quarter touchdown with a seventy-three yard sprint to the end zone. The Saxons held a comfortable 33-0 lead after the first quarter.
Already ahead by five scores, Hastings would pad their lead in the second quarter. Mason Denton kept the football and powered across the goal line for a one yard score. Later, Lanny Teunessen plunged across the goal line from two yards out. The Saxons took a 45-0 lead to half.
With the running clock in effect throughout the second half, Hastings had limited opportunities to score. Robby Slaughter would score in the third quarter when he ran fifty-two yards for a touchdown. In the fourth quarter, Kaiden Shumway ran for a twelve yard touchdown, and he also booted a successful extra point.
Hastings outgained Three Rivers 585-35 offensively in this game. Although Three Rivers was only outgained through the air 30-16, the real advantage was on the ground. Hastings rushed for 555 yards compared to Three Rivers' 19.
TJ Russell had just five carries, but he racked up 264 yards (52.8 yards per carry) and three touchdowns. Robby Slaughter added 122 yards and three touchdowns on ten carries, while Lanny Teunessen used his nine carries to rack up 78 yards and a touchdown.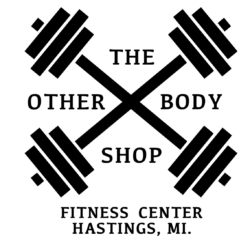 The Other Body Shop, a sponsor of Hastings Saxons football at Michigan Sports Radio, extends their Saxons of the Game honors to the entire Hastings offensive line for their tremendous work up front, paving the way for 555 rushing yards.
Next week, Hastings will look for another playoff victory. They have an extremely tall task as they will host Paw Paw. In their opener, Paw Paw thrashed Otsego 44-7. These two teams have tremendous rushing attacks, so it will be a thrilling game of football.