The Rockford Rams traveled to Caledonia tonight for a battle of unbeaten teams in the OK Red. An explosive offensive attack pushed Rockford out front early and carried them to victory.
On the opening drive of the contest, Zak Ahern led Rockford to the end zone. His seventeen yard run gave the Rams an early 7-0 edge. Just moments later, Ahern took to the air for his second touchdown of the evening. The lead was extended to fourteen points when he found Caden Currie for a twenty-six yard touchdown.
With sixteen seconds to go in the first quarter, Caledonia finally got on the board as Mason Mckenzie connected with Justice Reed for a eighteen-yard touchdown. Paul Voegler's extra point made it 14-7. The scoring for the first quarter was not done however, as Ahern found Calvin Kibbe for a seventy-four yard touchdown to push the lead back to fourteen points.
The remainder of this game was all Rockford. The Rams scored a pair of touchdowns in the second quarter to extend their lead even further. First, Ethan Nash burst through the Fighting Scots' secondary for a thirty-five yard score. In the closing seconds of the half, Ahern tossed another touchdown, this time finding Luke McLean for a ten-yard pass to make it 35-7 as the teams went to the locker room.
Jacob Vega got the Rams rolling in the third quarter. After a quick three and out forced by the Rockford defense, Vega ran it in for his first touchdown of the season. An interception return for a touchdown by Caleb Beach brought the game to its final score of 49-7.
Caledonia suffered their largest defeat since 2016 in this contest, but they still fought hard. Mason Mckenzie led the way through the air with ninety-five yards for the Scots. Carson Vanderhoff was Caledonia's leading rusher with sixty-six yards on the ground.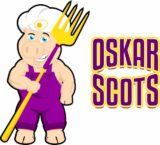 The OSKAR Scots Fighting Scot of the Game honors go to Justice Reed, who finished with four catches, including the only touchdown of the evening.
Rockford was led by an impressive performance by Zak Ahern. An early favorite for Core Power Performance Impact Player of the Week honors, Ahern had 187 passing yards and three touchdowns, while also adding fifty-two rushing yards and a fourth touchdown. Ethan Nash led the Rams on the ground with seventy yards, while Calvin Kibbe's 135 receiving yards led all players.
Next week, Rockford (2-0) will travel to West Ottawa in a game that will be broadcast LIVE on Michigan Sports Radio. Caledonia (1-1) will also hit the road, as they face Jenison in a contest that you can find LIVE on Michigan Sports Radio.