FHN's #2 Luke Silvernale catches a 31 yard pass. Photos courtesy of Lou Murray Photography
Check out pictures of the game here: https://www.flickr.com/photos/[email protected]/albums/72157719906201109
The Forest Hills Northern Huskies and the East Grand Rapids Pioneers were both looking for their first win in the OK White conference. The home team (FHN) would rally in the second half and outscore the visiting Pioneers 17-0 in the final two quarters.
East would start the game with the ball. Eight plays later they would have the lead 7-0. Jr RB Andrew Caswell ran in the games first touch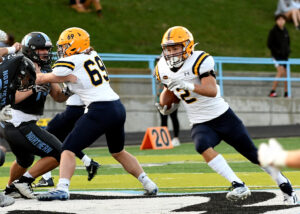 down from 10 yards. His classmate K Nick Collins PAT was good and the Pioneers were off to a great start. Good fortune continued for East as they forced turnovers on both of the Huskies first two possessions. One of those, a fumble, gave East the ball on the Huskie 25 yard line. Just 3 plays later and JR QB David Bernecker would score a rushing TD from 4 yards and East would have a 14-0 lead heading into the intermission.
FHN Coach "O" (Eddie Ostipow  GR Press Coach of the year 2015 w FHE) would need to make some adjustments at halftime. The East offensive and defensive line seemed to be in control in the first two quarters.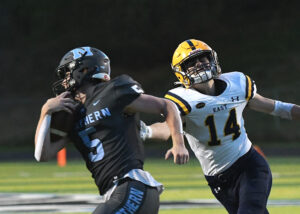 Changes were made, and the Huskies responded. The second half scoring was entirely made up of Huskie highlights. RB Curt Andrews scores first for FHN running it in from 13 yards just 4 minuets into the 3rd quarter. Next to score for the Huskies would be QB Travis Myers from 21 yards knotting the score at 14 all. The defense also stepped it's game up, led by Logan Hertstein and Jamie Le.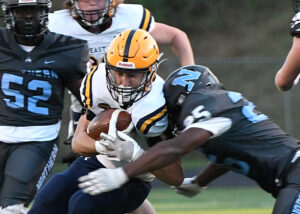 The tension was thick as both teams knew that one big play or mistake could decide the outcome. East attempted 2 field goals from 50 and 51 yards. The distance was within Collins range but the accuracy was just a little off the mark and the score remained tied. With just over 4 minuets left in the 4th, FHN would send Luke Silvernale out to try a 22 yard FG. The kick split the uprights and the Huskies had their first lead of the game 17-14.
East would get the ball for a final drive, however, the Huskie defense would force East to try to convert a 3rd and 1/2 a mile, which turned into a 4th and 10. That 4th down conversion would be unsuccessful resulting in the victory formation for the Huskie Offense. Huskies win 17-14.
With the win FHN improves to 1-2 in the OK White and 2-3 overall. The Huskies will travel to Byron Center next week to battle with the undefeated Bulldogs.
East Grand Rapids falls to 0-3 in the OK White and 1-4 overall. Next week they host a long time rival the Lowell Red Arrows.