A wild week one of intriguing stories across the board is already in the books, and we turn our sights on an even bigger week two, as conference play now looms just a week away. MGN will be on the air with live game coverage for the first time this season, as we'll have the Grandville Bulldogs in their home opener against University of Detroit Jesuit. Coverage begins at 6:40pm in all the usual places – the listen live tab on MichiganSportsRadio.com, the MSR app, and also on the Michigan Game Night page under the affiliates tab on this website (MichiganSportsRadio.com/MGN).
Before we get too far in this week's blog – remember check out the MGN Football Tailgate Report. It's up on the MGN YouTube page, and we're working on also getting it in the Listen Live archives here on MSR.
Week 1 Recap/Stories:
It's a big one for the Bulldogs  – last week they fell 50-26 to Glenbard West, one of the perennial powers in the Chicago area, and a team that has seen some national rankings at points in the past as well. In the video podcast posted above you can hear Coach Stiegel break down the game more, but despite the score the 'Dawgs had their chances hanging tied or within a score for the bulk of the first half before the Hilltoppers were able to force some turnovers and open the game up.
Emerging Playmakers
Ian Sanders operated as the starting QB for the Bulldogs, but after throwing for a TD in the first half, he would battle cramps in the nearly 100 degree late summer afternoon and Jr Carson Smith would take over the QB duties – running and throwing for a TD.
Tyson Mann was the recipient of the Sanders TD pass, and the Jr that saw some varsity action late last season brought in a few more acrobatic grabs out of the backfield – beginning to show a new type of weapon the Bulldogs may have in terms of a dual-threat, down-the-field pass catcher out of the backfield. Noah Atwood stepped into the TE role and brought in the Smith TD throw in the 2nd half, with Brayden Gable inactive week one , Atwood did a lot alongside Luke DeHaan (& others) to show the strength both in pass catching and blocking the TE group can (and likely has to) be.
Anthony Taylor and Cade Pilczuk worked alongside Mann as the primary RB group – answering the big question mark entering the year of what the 'T' would look like. But plenty of other names did and will shuffle in there, including Domonic Osborn (who saw quite a bit of action last year as a Jr.) and Andrew Bachhelder, who ran for a late TD.
Defense Deja-Vu 
Last year the Bulldogs 'D' Struggled early in the season, notably giving up 42 points to East Kentwood in week 2. This year it again is a slow start on their own end for the Bulldogs, who despite forcing a fumble gave up over 3oo total yards (200+ of which on the ground) to Glenbard West.
Last year, however, there was a good ending to those struggles – as beginning with winning a 21-17 defensive slugfest against Hudsonville in week 3, the defense would lock down throughout the year as DC KJ Landis' team would go on to dominate the playoffs, including a round 2 shutout of Traverse City West. We'll see if the Bulldogs can begin that same type of turnaround with a very athletic and multiple defense that has plenty of adjustments and tools up their sleeve.
The defense still is working out kinks at this point, as the returners they do have be be swapping into new roles or trying to solidify their own. Luke DeHaan is moving into a similar role to what Dawson Kryska was in last year – serving as everything from an OLB, to a Safety, and even some edge rushing duties.
They have tons of experience with returners in the secondary on some big bodies up front, primarily operating out of a 3-4 alignment to start the year – but the always very multiple defense could (and will) throw curveballs at any point.
This Week on MGN – Grandville vs. Univ. of Detroit Jesuit
This week, it's a big chance for a Bulldogs bounce back – but they have another tough foe in their way, as the Bulldogs will open up their ome stadium and run through the inflated Bulldog for the first time in the 2021 campaign.
U of D Jesuit Overview
The Cubs are a similar squad in a lot of ways on the offensive side of the ball to what Grandville will see several times this year in the OK-Red, as they are an athletic team across the board with some good size as well that will work almost exclusively from the shotgun in a zone-run heavy system. Look for a lot of usage of read option run plays, their athletic SR QB Patrick McVeigh ran for 2 TDs last week and is emerging as their leader at that position.
The Cubs on offense will primarily work from 3 WR sets in the open field and use an H-Back to help block or receive in the backfield (very similar to what Hudsonville in particular runs). Leading that receiving trio will be Sr Chris Mutebi – He had a TD grab in wee one as he stretched the field vertically and then made a tough leaping grab over a defender, Look for that sort of impact both vertically on the field and vertically in the air out of #1 of UDJ.
This is also a very effective defense that forced 2 fumbles and a safety in their week one win over Grosse Point North (One of those fumbles was returned for a score as well). So, controlling the ball and limiting mistakes vs. a ballhawking secondary and bruising front line will be key for the Bulldogs as they look to likely open the pass game up again this week.
Where to Tune In
I'll mention it again, 6:40pm Friday we will be on the air with 'enhanced radio coverage' (camera on scoreboard, camera on broadcasters, etc.). Simply tune in through the listen live page on Michigan Sports Radio, the Michigan Sports Radio app, or you can access everything through MichiganGameNight.com as well!
Looking forward to it! Make sure you check out this week's pod while you are at it as well.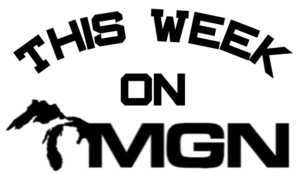 Is Presented By: