Two weeks are already in the books, and throughout the bulk of West Michigan conference play will kick off this week as OK-Conference based teams will kick off their first of seven conference games of this campaign. MGN again will be live with the Grandville Bulldogs and at one of those conference openers on Friday night – as the 'Dawgs will travel to Caledonia to take on a tough 2-0 Fighting Scots team.
Coverage will begin Friday night at 6:30, as we've extended the pre-game show in order to fit a little bit more content in before kickoff – including a re-airing of out interview with Bulldogs D.C. K.J. Landis, that also can be heard on this week's video pod.
And speaking of our video pod – make sure to check out this week's edition of the MGN Football Tailgate Report for a more detailed breakdown of Grandville's week 2 win over UDJ, preview of Grandville/Caledonia, that aforementioned interview with Coach Landis, and a look around the area and the top teams throughout the OK-conference in the 'Power 6' segment.
Grandville Week 2 Review
Before we get into looking into what this weeks live broadcast game of Grandville/Caledonia will involve – let's take a quick look back at some of what we learned last weekend. Grandville rebounded in the biggest way possible after their tough loss in Illinois week one, as the 'Dawgs dominated both sides of the ball vs. University of Detroit Jesuit on the way to a 50-0 win.
Defensive Turnaround
After surrendering 50 points and over 300 yards week one vs. Glenbard West the Bulldog's defense made the necessary adjustments (and then some) vs. a UDJ squad that had put up nearly 35 points in week one. DJ Arnold, Carson Smith, and Ethan Schultz all came up with INT's, as a dominant Bulldogs pass rush kept UDJ QB Nathan Brown uncomfortable all night long while also stuffing the run game (UDJ only completed 1 non-screen pass all night long). Luke DeHaan also nearly came away with a FF and TD as well, but the tackle and recovery in the endzone was ultimately ruled an incomplete pass – but the Bulldogs excellent hybrid OLB/Safety made his presence felt on that play, and many others.
Offensive Rhythm Found
Despite playing such a stout defense week one, the Bulldogs still were able to find the endzone four times vs. Glenbard West – But, week 2 would see the Bulldogs offense explode in a manner that is more familiar to the past few years of dynamic offense out of the Bulldogs Power T.
Cade Pilczuk had a massive showing and announced himself as a possible bellcow back replacement running out of the left side of the RB trio that Marcel Love dominated in the last few years, as the Sr found paydirt three total times on the night and showed an aggressiveness and spark running the ball that Love showed in that role the past few years, as he rushed for 168 yards.
Ian Sanders had a calm and highly efficient night at QB as he ran and threw for a TD (to RB Tyson Mann – his 2nd TD grab this season) along with an additional 2-pt conversion pass completed to Mann. On the whole, it was an efficient and safe performance out of the 'Dawgs signalcaller – exactly what they need to see out of the 3rd yr Sr.
Week 3 on MGN Preview – Grandville/Caledonia
New-Look Scots Rolling
Head Coach Derrick Pennington has taken the reigns of the program at Caledonia after 13 seasons at Zeeland East – His 2-0 squad is averaging nearly 40 ppg and giving up 7.0 o/ppg so far this year, and looking like a truly building threat to make some noise in conference and into the postseason.
Caledonia is loaded with young talent across the board – with maybe as many hyper-talented underclassmen and Jr's as any program of their size in the area. Jr QB Mason McKenzie is coming off a 4TD performance week 2 in a 35-0 win over Lowell and has proven to be a threat running and passing, setting up many of the read option and RPO type looks that this power-spread system, that will be similar to the UDJ offense last week, likes to run
On the outside and in the slot, respectively, Nick Fox and Justice Reed each hauled in TD grabs last week, and the Scots will be able to rely on the running exploits of talented sophomore back Blake Herron.
Defensively, this team will base things out of an adaptable 3-man front that will remind some of what the Bulldogs D will do in terms of shifts and adjustments  on the D Line, and throughout the rest of the defense. They also a very familiar to the Bulldogs system and will likely not be afraid to stack the box with 8-9 men – like they did in week one vs. a power-run-heavy Holt team.
Grandville's Tough Conference Start
The importance of this game is elevated this year for the Bulldogs, as they will have to follow up this game with a matchup vs. the Rockford Rams next week – So, for as tough as Caledonia is – winning tis week to set up more momentum going into that rivalry showdown will be paramount.
This game also will provide a chance to figure out what the Bulldogs are all about, as they still have plenty of questions after two wildly different weeks to open the season – We can't wait to get out to Caledonia and bring the coverage of the Bulldogs again this week – what could be our last Bulldog broadcast for a few weeks as the Game of the Week schedule will start shortly.
Remember – 6:30pm on the Michigan Sports Radio 'Listen Live' or MGN page (along with the MI Sports radio app) we'll have the live coverage. It's going to be a fun night of football for sure.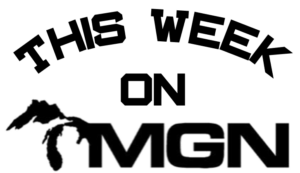 Is Presented By: