Photo Credit: Eric Tuori
Caledonia and Jenison, the two OK Red teams in their Division 2 district, met on Friday night in a regular season rematch. Four weeks ago, these two met in Jenison, and the Wildcats came away with a two-score victory. This time, the Fighting Scots came back to Jenison with revenge on their mind. They fulfilled their sense of unfinished business with a thrilling 21-14 victory over the Wildcats.
On their opening drive, Caledonia was able to find the end zone. After a thrilling reverse pass from Mason Mckenzie to Caleb Sprague that covered thirty-three yards, Caledonia was in plus territory. Carson Vanderhoff broke off a forty-yard touchdown run through the heart of the Jenison defense to give the Fighting Scots an early 7-0 edge. Before the first quarter was over, Caledonia would get the football back on a fumble by the Jenison offense. The Fighting Scots would embark on an eleven-play, sixty-six yard drive that was capped off by Vanderhoff's second touchdown run. Jenison appeared to take the ensuing kickoff back eighty yards for a touchdown, but it was called back after a holding penalty was called.  This left the score at 14-0 Caledonia after the opening quarter.
Jenison would rally from the costly penalty, reaching the Caledonia twenty-eight yard line. They sent out their kicker for a field goal, but it was ultimately unsuccessful, leaving them scoreless. Caledonia would turn the football back over to Jenison, as Dylan Andrus recovered the loose ball. Jaden Vandalsen and Alex Schmidt would pair up on the next play for a twenty-five yard touchdown to bring the 'Cats within seven.
Caledonia would respond with a drive that covered seventy-five yards in ten plays. Carson Vanderhoff capped off a remarkable first half with a two yard run, his third touchdown of the game, bringing Caledonia's lead to 21-7 after the first half.
Jenison wasted no time scoring in the second half. On their opening drive, Vandalsen and Schmidt paired up on a thirty-three yard touchdown that made it a seven-point game once again.
A couple Caledonia miscues, an interception and a blocked field goal, allowed Jenison to have the football back early in the fourth quarter trailing by just seven. The Wildcats marched all the way down to the Caledonia 31, when the Fighting Scots' defense buckled down and got a crucial fourth-and-one stop.
After Caledonia's responding drive was stopped, Jenison got the football with just over four minutes to go on their own thirty-five yard line. They would move the football down to the Caledonia 24-yard line, but ultimately the 'Cats would run out of time. Their attempt at a tying score would advance no further.
Caledonia's patented rushing attack was back on full display again on Friday night. Coach Tom Burrill, who has had tremendous success running the wishbone throughout his storied career on the sidelines, went back to his bread and butter and it has worked tremendously the past few weeks. Tonight, they ran 55 times for 274 yards and three scores.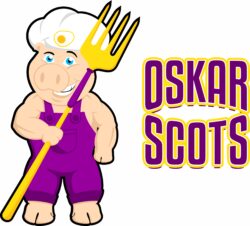 Carson Vanderhoff led the charge with 38 carries for 211 yards and a trio of scores. He earns the honor of being tonight's OSKAR Scots Fighting Scot of the Night.
This victory was Caledonia's first in the postseason since 2012. That year, they won a trio of playoff games before losing in the semifinals. They will hope to get their second win of the postseason next week, when they travel to Lowell. The Red Arrows upset Byron Center 35-28 in a #3/#6 matchup.