The Caledonia Fighting Scots travelled to Jenison to take on the Wildcats in an important game for the OK Red as well as the Division 2 District 9 seeding. The Wildcats' defense stepped up to the task and they shut down the running game of Caledonia to come away with a 28-14 victory.
After Caledonia started the game with a drive down the field that ended with a missed field goal, Jenison started the scoring in this game with a touchdown run of three yards by quarterback Jadon Vandalsen. This was the only touchdown during the first quarter of play.
In the second quarter, Caledonia was able to draw even on a thirteen yard touchdown pass from Mason Mckenzie to Nick Fox. This lead would only hold for four minutes before Caleb Dean broke free for a twenty-one yard score. This gave the Wildcats the lead again at 14-7.
Coming out of the locker room, neither offense got going for the beginning of the third quarter. Jenison finally broke through with five minutes to go in the third when Vandalsen and Dean connected on a sixty-four yard long ball.
Caledonia jumped back within a touchdown when Carson VanderHoff ran for an eight yard touchdown. They would remain this close as the fourth quarter began.
The Wildcats got an insurance touchdown by Kaden Buchholz early in the fourth to push the lead to fourteen points. Caledonia had a couple chances to make it interesting, but the Jenison defense continued to answer the call. The Wildcats have held all three of their opponents under their current season average in points.
Caledonia was led by Carson VanderHoff on the ground with 74 yards. Mason Mckenzie was the gunslinger for the Scots with 15/29 for 176 yards.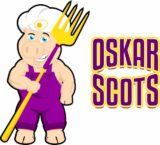 Nick Fox was tonight's OSKAR Scots Fighting Scot of the Game. He led the team in receiving yards with 71, while he also hauled in his first touchdown of 2020.
Jaden Vandalsen was the leading passer and rusher for Jenison. He only tossed four passes, completing two for seventy-one yards and a touchdown. Vandalsen led the way with 67 yards on the ground. Caleb Dean had two touchdowns in this game, one on the ground and one as a receiver.
Next week, Caledonia will host Hudsonville in a game that will be covered LIVE on Michigan Sports Radio. Jenison will travel to take on East Kentwood in an OK Red game that will also be LIVE on Michigan Sports Radio.