The Hudsonville Eagles traveled to Caledonia on Friday in a pivotal game in the OK Red standings. After a narrow defeat against Grandville, the Eagles looked to bounce back and stay within striking distance for the league title. They did just that, with a strong defensive effort and two explosive second half plays to deliver a 17-7 victory.
In the first quarter, the offense was limited on both sides. Emmanuel Dieppa got the scoring started with a 39 yard field goal in the closing minute of the quarter, giving Hudsonville a 3-0 edge.
That would be all Hudsonville's offense could draw up in the first half. Caledonia, meanwhile, was able to get their offense started in the second quarter. Carson Vanderhoff carried the football across the goal line from fourteen yards out to put the Scots out in front. Paul Voegler's extra point made it 7-3 Caledonia. This touchdown drive was the only scoring of the first half, and the score remained as they headed to break.
Coming out of the locker room, both teams played tremendous defense. There were two scoring plays in the second half, and they both were huge plays for the Eagles. Facing a third and thirteen, Brennan Hayes and Dylan Ham connected for an eighty-seven yard touchdown to put Hudsonville ahead 10-7 just two minutes into the second half. After a quick three and out, Dylan Ham fielded the Caledonia punt and dashed through the Fighting Scots' defense for a fifty-eight yard touchdown. This would be more than enough offense to deliver the win.
The Eagles' defense had three interceptions in this game. JT Sokolove, Nate St. John, and Jackson Kok were all able to step in front of a pass and flip the possession on Hudsonville's behalf.
Hayes was the leading passer for Hudsonville with 124 yards. He also led the team in rushing with seventeen yards. Dylan Ham hauled in five catches and gained ninety-five yards, both team highs.
For Caledonia, Mason Mckenzie passed for 56 yards. Justice Reed was his main target, as the sophomore hauled in five passes for twenty-seven yards.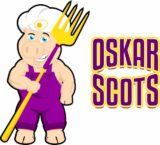 The OSKAR Scots Fighting Scot of the game in this one was Carson Vanderhoff. The senior paced the Scots with 148 rushing yards on 26 carries, and he also scored the only touchdown.
Next week, Hudsonville (3-1) will travel to West Ottawa to take on the Panthers. Caledonia (1-3) will also hit the road when they take on Grandville. Both of these games will be LIVE on Michigan Sports Radio next Friday night.