Carson VanderHoff truly is an incredible football player, and his accomplishments in this game should not be diminished by any means. But perhaps the most impressive note for Coach Tom Burrill's Fighting Scots would be the fact that his team has two other lethal weapons that makes this offense a true threat against any OK Red teams. Sophomore quarterback Mason Mckenzie and offensive weapon Justice Reed had phenomenal varsity debuts to help the Scots win their season-opener over West Ottawa 49-28.
West Ottawa started this game with an explosive scoring play, as quarterback Jake Zimmer found a wide open Blake Bosma on a fifty-one yard touchdown after a beautifully executed run fake. The missed extra point gave West Ottawa a 6-0 advantage.
The Fighting Scots responded to this quick scoring drive with a trio of scoring drives to take a commanding 21-6 advantage. First, Mason Mckenzie found Justice Reed for a forty-yard strike after a West Ottawa penalty extended the drive on fourth down. After additional Panthers' penalties wiped out a positive drive, Caledonia went to their workhorse back Carson VanderHoff for a touchdown. His first score of 2020 was a six-yard run to extend the lead to eight points. On their next possession, VanderHoff exploded for a forty yard run that set up a short touchdown pass from Mackenzie to Caleb Sprague. Caledonia took this fifteen point lead to the locker room.
Caledonia started the second half with the football and marched all the way down to the five-yard line of West Ottawa. The exchange on the handoff was muffled, and West Ottawa recovered to give the Panthers life. They turned this into an impressive drive that went ninety-five yards and saw Zimmer and Bosma connected for their second touchdown of the game, as well as a two-point conversion pass.
With the game only at seven points, Caledonia responded with a great scoring drive. They went sixty-five yards, and Carson VanderHoff's second touchdown of the night, this one from four yards out, made it 28-14. On the ensuing West Ottawa drive, Eli Haan came up with a big fumble recovery that gave the Scots great field position. VanderHoff capitalized as he ran into the end zone to push the lead to three scores.
Caledonia would continue to extend their lead, as Reed and Mackenzie connected for the second time to make it 42-21. Andrew Gray added to the tally for Caledonia with a great touchdown run of his own. West Ottawa would score late on another touchdown connection between Zimmer and Bosma, but it was far too late.
Carson VanderHoff finished the game with 224 yards and three touchdowns on the ground on twenty-eight carries. Brock Townsend added forty-six yards on the ground as the team piled up 331 yards rushing. Justice Reed added had twenty-nine rushing yards, eighty-five receiving yards and two touchdowns in his varsity debut.
Blake Bosma had seventeen receptions, tallying 210 yards and four touchdowns for West Ottawa. He caught half of Jake Zimmer's thirty-four completions, and Zimmer finished the game with 346 yards through the air.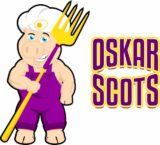 The OSKAR Scots' Fighting Scot of the Game tonight was Mason Mckenzie. The sophomore had a debut for the ages under center. He showed tremendous poise, as he finished the game with 10/15 passing the football with 125 yards and three touchdowns.
The victory pushes Caledonia to 1-0, and the Fighting Scots will host Rockford next week. As for West Ottawa, they will host Jenison next Friday night in search of their first victory of 2020. Both of these games will be broadcast LIVE on Michigan Sports Radio next weekend.