The Adrian Lenawee Christian Cougars took on the Britton Deerfield Patriots in a regular season battle that pitted two of the State's best teams against each other. A close game early, ALC pulled away in a 41-20 victory.
Just eleven seconds into the action, Nico Johnson fired a touchdown to Mason Mueller. The duo scored on a 65-yard play, and Nico Johnson added the two-point try. Britton Deerfield extended their lead to fourteen points after recording a stop. Johnson and Mueller paired up once again, but they failed the conversion.
Over the final five minutes of the first quarter, Lenawee Christian responded. Ashur Bryja took to the air, finding Collin Davis on a 5-yard touchdown. Before the quarter concluded, Clay Ayers evened the count at fourteen.
During the second quarter, Britton Deerfield's offense took a significant hit. Nico Johnson left the game due to an ankle injury. He never returned to this ballgame, and Head Coach Erik Johnson is unsure about his status for the playoffs.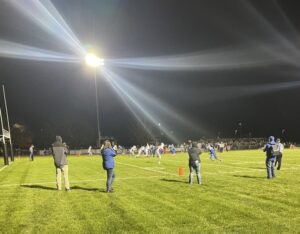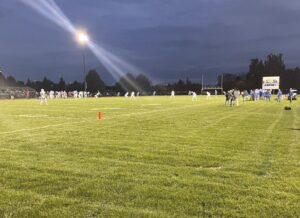 Lenawee Christian began a 20-0 run of the next two quarters to jump ahead. First, Ashur Bryja used his legs on a 16-yard keeper. With seconds to play before halftime, Bryja powered across the goal line from two yards out. In the third quarter, Bryja found Elliott Addleman on a 2-yard toss, giving ALC a 34-14 advantage.
The final quarter saw the teams exchange touchdowns. Britton Deerfield saw Tristan Johnson return to the end zone with a 4-yard carry. ALC rounded out the scoring with another Bryja touchdown run.
ALC outgained BD 443-285 in this game. In just over a quarter of action, Nico Johnson had 171 total yards of offense. His absence was clearly missed in the later portions of this game. Ashyr Bryja passed for 164 yards on 12/17 passing, while also adding 98 rushing yards. Clay Ayers added 149 rushing yards.
Both teams will learn their playoff fate on Sunday evening. Both teams expect their name to be called, it just depends on when those games will take place, and against whom. Adrian Lenawee Christian will look to defend their Division 1 State Championship, as the Cougars are riding a 20-game winning streak.