Photo Credit: Aleshia Blauvelt
The Martin Clippers opened the 2020 8-Man playoffs with a home football game on Thursday night. The #1 seed in their region of 8-Man Division 1, they hosted Athens in the first round. With an impressive display of offense, they won this contest 53-13.
Running the football was the key to success for the Clippers in this one. The team rushed for 330 yards, averaging 9.4 yards per carry. Brayden Eckman led the charge with 121 yards and a touchdown on his eleven carries. Gabe Meyers, the senior quarterback, rushed for three touchdowns and 108 yards on just nine carries. Karter Ribble rushed for a pair of touchdowns as well.
Meyers was quite a dual-threat presence, as he completed 10/13 passes. The biggest pass play of the game was a thirty-one yarder to senior tight end Mitchell Jager.
On the defensive side, the Clippers forced three turnovers. Charlie Martin forced two fumbles, while Jager recovered them both. Gabe Meyers hauled in an interception. Chris Tuinstra led the team with 8.5 tackles, while Ribble added eight. Charlie Martin recorded six tackles.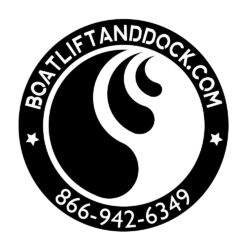 The boatliftanddock.com Martin Clipper of the Game is Gabe Meyers, as he exhibited stellar play on both offense and defense.
Coach Brad Blauvelt was extremely proud of the way that the team played. "I thought our execution was very good on both sides of the ball. We needed a good start for our confidence, and when you jump into a lead that early, it takes some pressure off. The kids can just relax and play football. We talked about being physical and playing with passion, and we did that throughout the night."
This was the second straight season that Martin opened the postseason with a victory. Their all-time playoff record improves to 10-10 with this victory.
Next week, Martin will host a playoff game once again. They will welcome the winner of the first-round contest between New Buffalo and Camden-Frontier. That first-round contest will take place on Saturday at 5:00. The regional semifinal game between Martin and the winner will take place next week on a date and time to be announced.